The delegation led by President Tran Dai Quang included leaders of Party, State, Party Committee, People's Council, People's Committee, Vietnam Fatherland Front Committee of Ho Chi Minh City.
In the solemn atmosphere, the leaders laid wreaths and offered incenses to express their deep gratitude to President Ho Chi Minh, Vietnamese heroic mothers, heroes of the People's Armed Forces and 45, 639 martyrs who laid down for the country's revolution.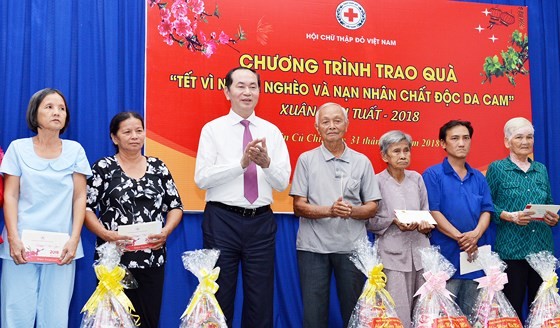 The Vietnamese President presents gifts to poor and policy households and Agent Orange victims
On the occasion, the Vietnamese President presented money and gifts to 100 poor and policy households and Agent Orange victims in Trung Lap Thuong commune and Cu Chi town.
According to Chairman of the People's Committee of Cu Chi district Nguyen Huu Hoai Phu, the locality has nearly 20,540 policy beneficiary families; Over 8,000 beneficiaries are entitled to monthly benefits including over 2,070 Vietnamese heroic mothers, 2,516 people with great contributions for the country's revolution, more than 340 victims of Agent Orange and nearly 2, 000 beneficiaries are entitled to martyrs and invalids with an average monthly subsidy of VND 10.4 billion.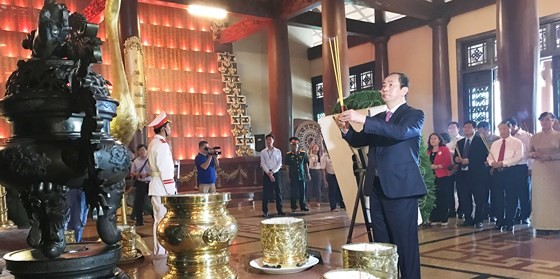 State President of Vietnam Tran Dai Quang offers incenses to commemorate martyrs at Ben Duoc Memorial Temple

On the coming Lunar New Year 2018, Cu Chi district has raised fund for the poor totaling VND 46 billion.
President Tran Dai Quang sent health wishes to policy beneficiary, poor households and Dioxin victims.
The leader expressed his pleasure before active development of Cu Chi district, and appreciated highly efforts of the local authorities and people.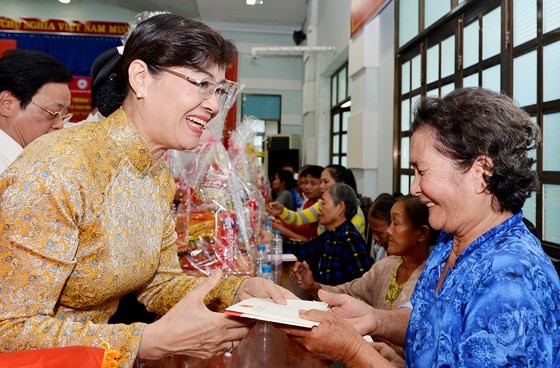 Chairwoman of the Ho Chi Minh City People's Council Nguyen Thi Quyet Tam offers Tet gifts to poor households in Cu Chi district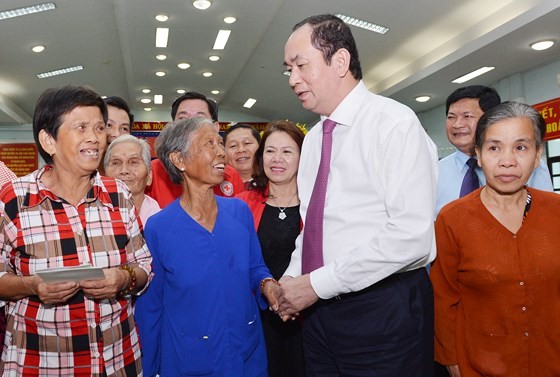 State President of Vietnam Tran Dai Quang sends health wishes to policy beneficiary families on Tet holidays