Vietnam is determined to pursue the road to socialism as it is the only way to ensure an equal society and a bright future for the Vietnamese people.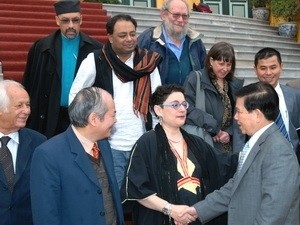 President Nguyen Minh Triet ( first , R ) receives international scholars in Hanoi on December 20
State President Nguyen Minh Triet made the statement in Hanoi on Dec. 20 while receiving a group of international scholars who are attending a seminar on Marxist theory and the present world.
Throughout the different stages of national development, Vietnam has come to fully aware that while staying faithful to Marxism, it is necessary to take a creative approach in applying Marxism, taking into account the country's specific conditions, President Triet stressed.
He added that it is inevitable that differences will arise among socialist-oriented countries when they put Marxism into practice, and exchange and discussion on the these differences are very necessary.
The president said the Party and State of Vietnam attach great importance to maintaining revolutionary achievements and continuing to build socialism successfully. In order to do this, it is the top priority to build a strong Party that win the trust of the people.
The international scholars highly valued Vietnam's success in national renewal process and keeping the Communist Party's leading role.
Vietnam is a good example in translating Marxism-Leninism into reality, and has many experiences in building socialism worth of studying, they emphasized.
They also pointed to several issues in which Vietnam needs to further improve, including ideological education for the youth and the teaching of Marxism-Leninism at school.