Menras André Marcel, a faithful friend of the Vietnamese people for nearly 40 years, has become a Vietnamese citizen in a solemn ceremony held in Ho Chi Minh City on December 1.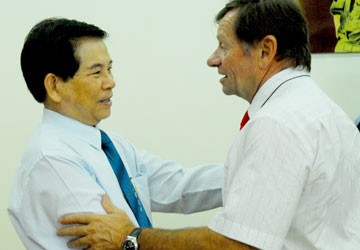 State President Nguyen Minh Triet (L) congratulates Mr. Menras Andre Marcel on receiving the grant of Vietnamese citizenship. (Photo: Phap luat)
Marcel—who has taken the name Ho Cuong Quyet in Vietnamese--was granted Vietnamese citizenship under State President Nguyen Minh Triet's decision.
Speaking at the ceremony, the Vietnamese leader affirmed the respect given to Marcel. "We offer special affection to him as he has stood beside Vietnam through the toughest times", Triet said, adding that the solidarity of international friends is an important factor behind Vietnam's victories against invaders.
The State President showed his admiration for Marcel's bravery and hoped the new citizen would keep loving Vietnam and continue the fight against those who still misunderstand and oppose the country.
Speaking in quite fluent Vietnamese, Marcel expressed his happiness at becoming a Vietnamese citizen. "Now I no longer stand beside Vietnam. I am part of Vietnam," he said. "I protected Vietnam with my heart. I will continue protecting the independence, sovereignty and territory of Vietnam with more power and a deeper understanding, because now I am a Vietnamese citizen", he continued.
Marcel said that helping the poor, the children going to school and Vietnamese Agent Orange victims in their struggle for justice will be his top priorities in the coming time.
Marcel came to Vietnam to teach in 1968. Two years later, on July 25, 1970, he and Jean Pierre Debris raised the flag of the National Front for Liberation of Southern Vietnam and distributed leaflets in front of the building of the Saigon regime's Parliament. After two and a half years in the regime's prison, he began circling the globe to promote the cause of Vietnamese communists and write books denouncing the crimes of the US invaders and the Saigon regime.