State President Truong Tan Sang met and congratulated journalists ahead of the 90th anniversary of Vietnam Revolutionary Press Day (June 21) in Hanoi on June 17.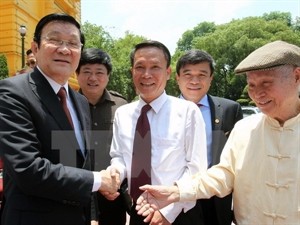 State President Sang (L) meets jourtnalists -VNA
The leader recalled the history of the Vietnam revolutionary press, founded and fostered by the late President Ho Chi Minh with the launch of the Thanh nien [Youth] newspaper in 1925.
It went through three stages of development along with the nation's journey, the first marked by the establishment of the Communist Party of Vietnam.
In the next 30 years, Vietnam staged two resistance wars for national liberation and reunification under the leadership of the Party.
Since the country won its independence, the press has grown in stature and marched side by side with the nation.
The President hoped that each revolutionary journalist would hold up the glorious tradition of the sector and fulfill their assigned tasks, connecting the Party and State with the people.
He called on them to publish up-to-date news promptly to the public and convey public aspirations to Party and State leaders.
Participants voiced their concern about the existing difficulties due to the proliferation of multimedia, particularly social media that has caused confusion over news accuracy.
They expressed their desire for an improved legal framework that enables them to exercise their profession.
The journalists pledged to continue raising their social responsibilities and professional ethics, worthy of the trust given by the Party, State and people.
On the occasion, the State leader also presented gifts to veteran journalists.