State President Tran Đai Quang told voters yesterday that as the President and NA deputy, he would focus on upgrading the military to protect national independence and sovereignty.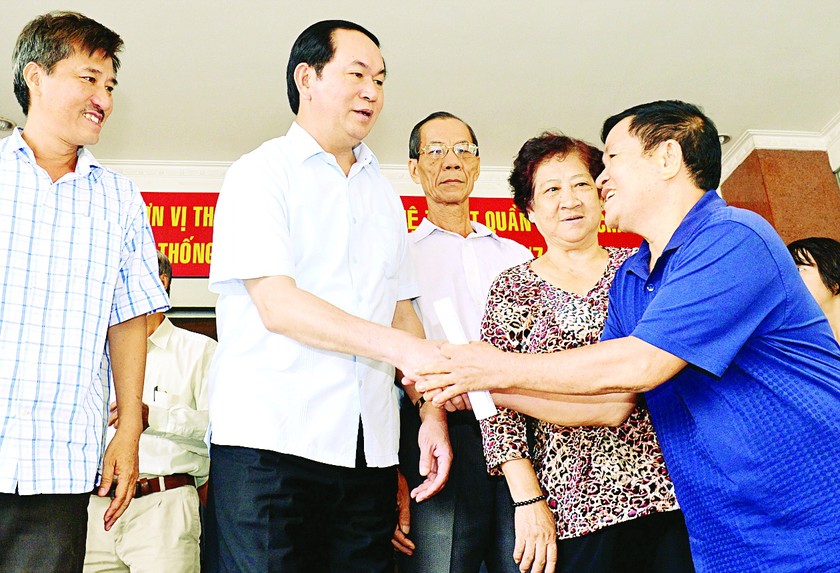 State President Tran Dai Quang meets voters in district 1, HCMC -Photo: SGGP
Quang, a member of the Politburo and chairman of the Council for National Defense and Security, said that he was honoured when the National Election Council introduced him as a nominee for the NA deputy representing the people of HCM City, the country's largest city.
"If HCM City voters vote for me as a member of National Assembly, it will be a great honour for me and also a great responsibility," President Quang said.
Phạm Thị Nga, a voter of Bến Thành Ward, District 1, said the National Assembly and the government had done their task well, but that residents were still concerned about crime, traffic accidents and the impact of climate change.
As voters have expressed concern about unsafe food, thefts and traffic congestion, the president promised to create new policies to promote a safe, civilised lifestyle.
The State leader said he would regularly meet and listen to voters and raise their concerns to the National Assembly to protect the rights and legal benefits of the people. He said he would also pay more attention to fighting corruption.
At HCM City's election unit No.1 (District 1, 3, 4), besides the State President Trần Đại Quang, there are four other candidates: Professor and Dr. Trần Đông A; Đặng Thị Thúy Dung, deputy general director of Gia Định Garment Company; Colonel Ngô Tuấn Nghĩa, deputy political commissar of High Command of Việt Nam's People Army in HCM City; and Lâm Đình Thắng, deputy secretary of Hồ Chí Minh Communist Youth Union, HCM City chapter.
Candidate Trần Đông A said that he would work with other NA members to create a clean living environment by dealing with food safety and pollution.
Lâm Đình Thắng expressed concerns related to young people, promising to speak to the government about education reform and support of young entrepreneurs.
Candidate Đặng Thị Thúy Dung said she was committed to creating favourable policies for small- and medium-sized enterprises in order to increase competitiveness, and Ngô Tuấn Nghĩa said his top concern was to build a strong military force.
NA chairman inspects preparation
NA Chairwoman Nguyễn Thị Kim Ngân visited the Mekong Delta province of An Giang yesterday to inspect the locality's preparations for the general election slated for May 22.
The top legislator was accompanied by officials from the NA Standing Committee and the National Election Council (NEC).
Speaking at a meeting with the provincial electoral council, Ngân, who is also NEC Chairwoman, praised the locality's efforts to hold the election in accordance with the law.
She stressed the importance of fairness between candidates in campaigning through both meetings with voters and the media.
Ngân later met with the electoral councils of the province's Long Xuyên City and Mỹ Hòa Hưng Commune where she suggested that more training be provided to election staff.
An Giang has posted the list of 8,581 candidates who will run for seats in the 14th NA and People's Councils at provincial, district and communal levels together with their biographies at each constituency for public viewing.
All candidates are holding meetings to canvass for votes from May 4 to 18.
As many as 1,448 polling locations were established across the province for more than 1.6 million voters to cast their ballots.
Early voting held at sea
Yesterday, the Election Council of Vũng Tàu City in the southern coastal province of Bà Rịa-Vũng Tàu held early voting for deputies to the 14th NA and all-level People's Councils at the polling station No 12 for military officers who are going to undertake duty at sea.
Polling station No 12 had more than 1,500 eligible voters, consisting of officers from Naval Brigade 171, Battalion DK1, Fisheries Surveillance Platoon No 2 and several units of the High Command of the Naval Region 2.
On the morning, more than 100 officers cast their votes at the polling station, which remains open until May 21.
With the support of the navy, early elections will be organised at 47 locations from the waters off the coast of the south central Bình Thuận Province to those of southernmost Cà Mau Province.
The general election will take place on Sunday May 22.
Non-State resources
Nghệ An needs to alter its development mindset through building mechanisms and policies to mobilise non-State resources, instead of only using State funding, said Deputy Prime Minister Vương Đình Huệ.
The politician made the statement at a working session with Nghệ An Province authorities yesterday.
The government official lauded the achievements made by Nghệ An in recent past years, which, he said, contributed to the achievements of the country in promoting socio-economic development, stabilising the macroeconomy, controlling inflation and ensuring social welfare.
He urged the province to review its key projects to focus resources on the most urgent matters.
The deputy prime minister suggested Nghệ An set up an exclusive scheme for the Vinh-Cửa Lò transport axis, making the route a venue for high-tech development and urban, tourism and commercial areas.
Regarding Cửa Lò sea township, Nghệ An needs to promote socio-economic development associated with rearranging jobs and livelihoods for locals, as well as calling for investment in infrastructure improvement, Huệ added.
He insisted that the province quickly create good conditions for investors to complete the first phase of the deep water port in Nghi Lộc District's Nghi Thiết Commune by the end of this year, creating a gateway for exports of local enterprises' specialised commodities.