State President Truong Tan Sang beat the drum to open a new school year at the Phan Boi Chau Gifted Senior High School in central Nghe An province on Sept. 6.

Addressing the inauguration ceremony, President Sang commended the school's teachers and students and the Nghe An education sector on their achievements and active contributions to human resource development and talent training for the locality and the country.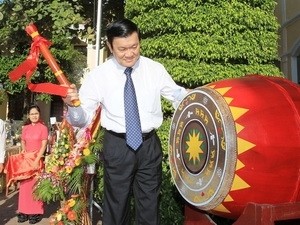 State President Truong Tan Sang beats drum to open new school year (Source: VNA)
Sang said he was happy that the school had four students winning prizes at international and regional contests and 59 students winning national prizes and the school was among the leading institiutions with its high number of students passing university entrance exams with excellent marks.
To make education and training a top national policy and an impetus for fast and sustainable national development, the 11th National Party Congress set out tasks to comprehensively renew education and training, the educational syllabus and the content and methods of learning and teaching and management mechanism; and develop the contingent of teachers and educational managers and increase comprehensive educational quality, said the President.
He expressed his belief that the school's students will follow previous generations to gain higher achievements in their study.
President Sang also presented gifts to outstanding poor students and planted souvenir trees in the school's garden.