State President Nguyen Minh Triet paid a working visit to the northern mountainous province of Son La on December 1-2, which has efficiently carried out new development models.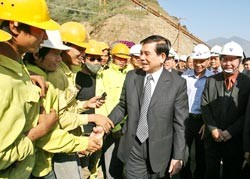 President Triet visits workers in construction site of Son La hydro-electric power plant. (Photo: VNA)
President Triet visited the construction site of the Son La hydro-electric power plant where investors, contractors and workers are working at full steam to put the first generator into operation in 2010, two years ahead of schedule.
He acknowledged the sacrifice and support of more than 12,400 households, including 8,400 from Son La province, who had left their home villages for new resettlement areas.
President Triet paid a call on a new resettlement area in Mai Quynh village, where local people were provided with land for production and instructions to raise cattle. He praised Son La's residential relocation programme, considering it an exemplary role model for other localities to follow.
He inquired into the rubber planting model in Tin and Na Trang villages where more than 200 locals are working for Son La Rubber Joint Stock Company. Under the model, the villagers granted land to the company, but still kept land use rights certificates. They received zero-percent interest loans from the company to raise cows and ostriches and plant maize, beans and nuts in rubber farms. Thanks to the model, most households in the two villages have purchased motorbikes and TV sets.
the president lauded the efficiency of the new cooperation model between local people and the Son La Rubber Joint Stock Company, saying it should be replicated in other localities.
While working with the provincial leaders, president Triet asked them to pay attention to reducing the number of poor households and drug addicts. He quoted the latest statistics as saying one of every three households is living under the poverty line and the province now has more than 15,100 drug addicts. He asked ministries and sectors to provide assistance to Son La to solve pending issues and achieve sustainable development.
Son La achieved a GDP growth rate of 13.2 percent in 2008 and the figure is set to increase to 14-15 percent in 2009.