Vietnam's State President Truong Tan Sang welcomed a delegation of Ministry of Foreign Affairs over periods at Presidential Palace yesterday to mark  the 70th anniversary of August Revolution (August 19), National Day (September 2) and the 70th founding anniversary of Vietnam's foreign affairs sector.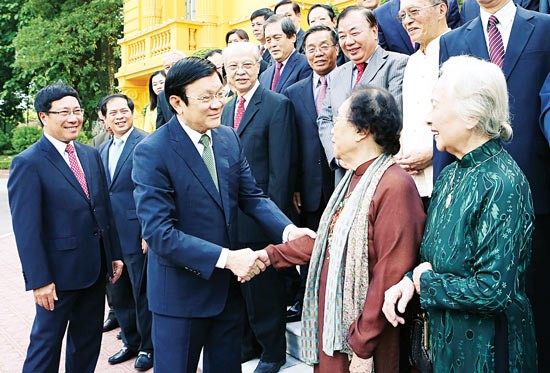 President Truong Tan Sang sends good health wishes to former staffs, officials of Ministry of Foreign Affairs over periods. (Photo:SGGP)
Attending in the meeting were former Vice President Nguyen Thi Binh, Vietnam's first female foreign minister; Minister of Foreign Affairs of Vietnam Pham Binh Minh, former Minister of Foreign Affairs Nguyen Dy Nien, former Deputy Prime Ministers and Ministers of Foreign Affairs Nguyen Manh Cam and Pham Gia Khiem.
 
Speaking at the meeting, President Sang congratulated and praised Vietnam foreign affairs achievements as well as contributions during past 70 years, and wished Vietnam's foreign affairs staffs and officials good health, happiness, and success.
 
In addition, the President expressed his desire Ministry of Foreign Affairs will continue to have additional achievements and contributions for building and  protecting the country, adding that the first Vietnam's foreign affairs staffs were lucky people because they received direction and guidance of President Ho Chi Minh as soon as first days of its foundation."
 
Under direction of President Ho Chi Minh, Vietnam's foreign affairs achievements contributed to struggle and protect nation's independence, sovereignty and territorial integrity such as Preliminary Agreement signed on March 6, 1946, Provisional Agreement signed on September 14, 1946 to Genève Agreement in 1954, and Paris Agreement signed in 1973. 
President Truong Tan Sang appreciated interaction as well as support of Vietnam's Foreign Affairs sector to provinces and cities nationwide in building and maintaining the environment of peace and stability, lifting Vietnam's position to the global.  
 
On the same day, Ministry of Foreign Affairs held an international seminar titled "Vietnam's Foreign Affairs- 70 years of its traditional day and future orientations" in Hanoi.
 
At the seminar, Deputy Prime Minister and Foreign Minister Pham Binh Minh said: "Vietnam will continue to further promote diplomatic relations in the international region. Especially, Vietnam will actively take part in multilateral diplomatic activities in the world in general and in Asian region in particular in future."
 
Regarding future orientations, senior leaders believed that Vietnam will have more active contributions for international community, peace preservation and stability in the region through international dialogues and forums.
 
US Ambassador Ted Osius said Vietnamese diplomacy always pursued fundamental principles on international relations, such as respecting international law, respecting the interests of Viet Nam and partners as well as maintaining peace and stability in the region.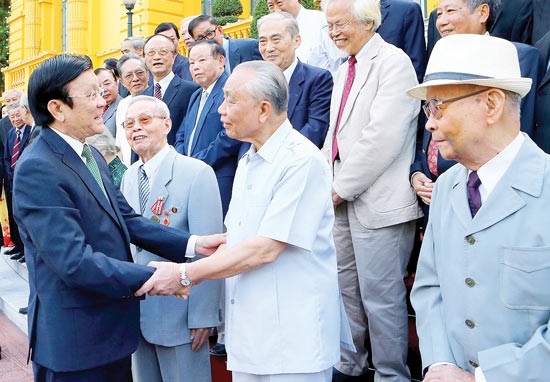 President Truong Tan Sang meets former staffs, officials of Ministry of Foreign Affairs over periods. (Photo:SGGP)