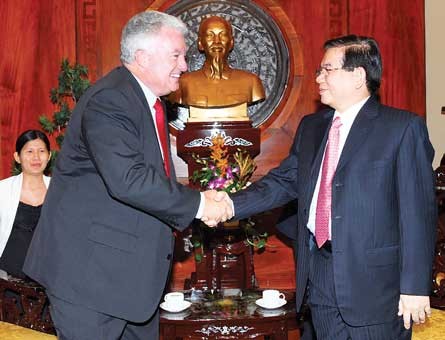 State President Triet welcomes Mr Michael Mann in HCMC - Photo: VD

State President Nguyen Minh Triet appreciated the contributions of the Royal Melbourne Institute of Technology (RMIT) International University in Viet Nam when he received RMIT General Director, Michael Mann, in Ho Chi Minh City on October 6.


The President said the RMIT University and My Thuan bridge symbolise the good friendship and cooperation between Viet Nam and Australia .
He went on to say that Vietnam is making every effort to increase the quality of education in order to develop a skilled labour force to meet the country's demand for comprehensive development.
President Triet also praised Australia 's assistance in poverty reduction programmes in Viet Nam to help local people improve their living conditions and the active role Mann played in the assistance when he was Australian ambassador to Viet Nam .
For his part, the RMIT General Director expressed his thanks to President Triet for his invaluable help during his working term as Australian Ambassador to Viet Nam in the past, as well as his current work in education development in Viet Nam .
He said he considers himself as "an unofficial ambassador for Vietnam " and will continue to support the country in the future.
RMIT Viet Nam, since its inauguration in 2001, has trained nearly 5,000 students, 1,500 of them already graduated