State President Nguyen Minh Triet on Wednesday flew to the central provinces of Khanh Hoa, Ninh Thuan and Phu Yen, inspecting flooding and giving direct instructions on the steps to recovery.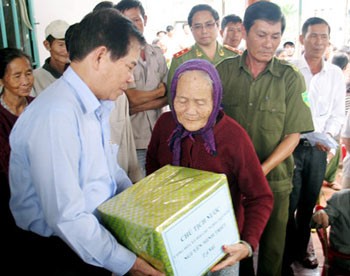 President Nguyen Minh Triet gives relief aid to flood hit residents in Ninh Thuan Province (Photo: SGGP)
In Thuan Loi hamlet, Phuoc Thuan commune, Ninh Phuoc district of Ninh Thuan province, which was devastated by flood, President Triet extended his sympathy over losses of property to local residents.
He urged local authorities to care for the life of the people, helping to bring them back to a normal life and resume production soon.
The President handed over presents to flood-hit families and donated VND200 million as relief aid to Thuan Loi hamlet.
President Triet and his entourage made a field trip to the 10km Dinh river bank that was breached by floodwaters.
At a working session with Ninh Thuan provincial officials, the President said central agencies should help the province overcome the aftermath of floods, provide it with 2,000 tons of rice and VND50 billion to cover difficulties.
By the afternoon of Tuesday, floods had claimed three lives and left one missing. The calamity inundated 5,150 houses, damaged 454 others, inundated 13,000 ha of plants, washed away cattle and poultry and sank 14 ships.
Also the same day, President Triet visited Khanh Hoa province, asking local authorities to continue preventive measures for heavy rains in the coming days as well as to care for people and resume normal life as soon as possible.
Khanh Hoa province was an economic hub in the central region, particularly in tourism, he said, urging the province to rebuild infrastructure and help businesses back to normal production.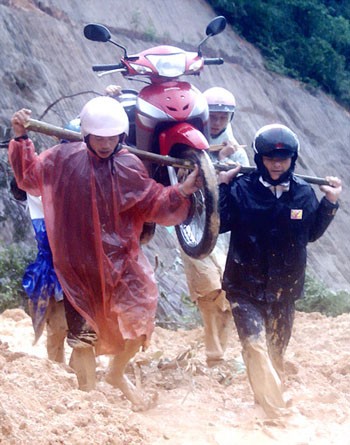 The men are carrying a motorcycle across a flood triggered landslide section on Hon Giao mountain pass in Khanh Vinh District, Khanh Hoa Province (Photo: SGGP)
The province asked the Government, ministries and agencies to provide 100 tons of rice seeds, 1 ton of vegetable varieties, 500 tons of rice, 500,000 disinfection tablets and 1,000kg of Cloramin B. The province also asked the Government to provide VND100 billion for recovery of production and repairing transport and irrigation infrastructure and aquaculture projects.
The President said the central authority would provide Khanh Hoa with 500 tons of rice along with rice seeds, vegetable varieties and disinfection tablets and 30 billion VND to help the province to quickly repair essential infrastructure.
President Triet also visited and handed over gifts to affected people in Cam Thinh Dong commune of Cam Ranh town and Vinh Trung commune of Nha Trang city.
The natural calamity claimed five lives, left another missing and injured two others in the province. It also submerged 9,190 houses, demolished 161 others, inundated almost 7,400 ha of rice and crops fields, washed away 23,000 poultry and cattle, sank nine ships, and damaged transport routes. The total losses are estimated at nearly VND300 billion.
Later the same day, President Triet made a tour of Phu Yen province, giving instructions on the steps to recovery along with advice on coping with floods and heavy rains, as an offshore tropical low pressure system is moving toward the continent.
He pledged the government and ministries would provide food and essentials to people in flooded areas. The Ministry of Public Security is on standby to help local forces with rescue efforts.
Heavy rains from October 29 claimed four lives and left one person missing. The calamity also inundated 2,100 houses, 2,200 ha of crops and destroyed roads. Initial losses are estimated at over 95 billion VND.
Deputy Prime Minister Hoang Trung Hai and senior officials from the Ministry of Agriculture and Rural Development, as well as public security and the Central Steering Committee for Flood and Storm Control accompanied President Triet.
Related articles:
Vice PM inspects flood-hit province
Floods claim six lives in southern central Vietnam
Floods inundate homes, crops in central region