Viet Nam became the World Trade Organization's 150th member on January 11. On the same day, Vietnamese President Nguyen Minh Triet expressed his thoughts and feelings while talking with Sai Gon Giai Phong newspaper in Ha Noi.
Sai Gon Giai Phong: What are your feelings about the fact that Viet Nam became a WTO member today? Could you say something about it?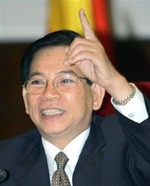 State President Nguyen Minh Triet
President Nguyen Minh Triet
: I was impressed with the event when it came though I had earlier known. When it came, it reminded me of numerous tasks to do like cutting thousands of tax lines. Therefore we have to always keep up with information such as what taxes to reduce and when to reduce taxes since we have to carry out our pledges for WTO admission.
In our WTO admission process, I have paid more attention to legal reforms to make our laws in line with international practices but our laws must have our own characteristics. Adjusting our laws is necessary but haste makes waste. The Vietnamese economy is a market economy with socialist directions. It is difficult to keep these characteristics in global integration but I believe that we can make it.
Viet Nam became a WTO member today. This reminds me and all of us that we have fully joined the process, and we cannot be neglectful, making it in a different way because the course has started and we will pursue the way we have worked out and we will succeed.
How do you assess Vietnamese media's contributions to the nation's WTO admission and other achievements in general?
I appreciate journalists' efforts and substantial contributions in many achievements of the country including WTO entry. I appreciate brave journalists who have fought against corruption and wastefulness. I also want to tell them to ensure accuracy and honesty and to be responsible for information they supply. You cannot write "according to the information we got", the sources are important because misinformation could cause serious adverse impacts.
Information about an event is important, so is information about humans. A wrong word or sentence could destroy a family. If this is the case, correction cannot save. This is rare but has happened. Journalists must be prudent and think what would happen if they were the persons they are writing about.
I request fairness and mutual respect from journalists. I wish journalists would try their best in working, with their braveness, fairness and honesty, for the development of the community and nation.

Related article
Viet Nam becomes WTO's 150th Official Member Today