President Truong Tan Sang received Deputy Chief Cabinet Secretary of Japan Seko Hiroshige during his working visit to Vietnam for the Vietnam-Japan University project in Ho Chi Minh City on April 12.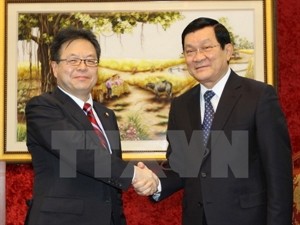 President Truong Tan Sang (R) receives Deputy Chief Cabinet Secretary of Japan Seko Hiroshige (Source: VNA)
The State leader hailed the significance of the project, which has received attention from the two Governments and the Japanese-Vietnamese friendship parliamentarians' union.
The university will help Vietnam gain direct access to Japan's education methods as well as narrow gaps in scientific and technological standards between the two countries.
As the university prepares to open its first master training programmes in the fall of 2016, the two sides should design specific plans to speed up the implementation of the project, he suggested.
Hiroshige told President Sang that his Government is working to accelerate the project and that part of his visit is dedicated to discussing master training programmes with Vietnam National University-Hanoi representatives.
Japan intends to send professors and experts to Vietnam in support of the project in June of this year, he added.
The Vietnam-Japan University project has a total investment of more than 300 million USD; 200 million USD of which was sourced from Japan's official development assistance and 100 million USD was provided by Japanese enterprises. The final product will be a member of the Vietnam National University-Hanoi.-VNA