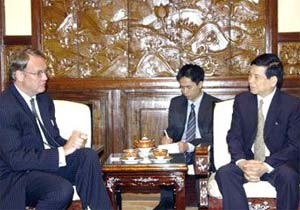 State President Nguyen Minh Triet (R) is talking with UN Resident Coordinator John Hendra.
Viet Nam hopes to receive further assistance from the United Nations and its agencies for the country's socio-economic development, particularly its national management skills, said State President Nguyen Minh Triet while receiving UN Resident Coordinator John Hendra in Ha Noi on Monday.
Speaking at the meeting, President Triet congratulated the agency on the United Nations Day (October 24) and expressed his thanks for its valuable assistance to Viet Nam over the past years. The received assistance has helped the country successfully implement the Doi Moi (Renewal) process and socio-economic development programs; especially for poverty reduction.
Mr Triet said that the Party, State, Government and people of Viet Nam are determined to speed up the fight against corruption and wastefulness, and hoped that the UN would give its support to the country while sharing its experiences in State management.
In return, Mr. Hendra congratulated Viet Nam on its achievements obtained in the Renewal process and the results of recent negotiations on its entry into the WTO. He also spoke highly of Viet Nam's role in the UN and hoped the country will make further contributions to the body's activities.
Regarding Viet Nam's socio-economic development targets, Mr. Hendra said the Vietnamese State should pay more attention to the use of its workforce and in making the economy more competitive.
In particular, the UN Resident Coordinator appreciated the establishment of a Central Steering Board for Corruption Prevention and Combat, saying that the UN and international community fully believe that Viet Nam will be successful in the fight against corruption and wastefulness.