State President Nguyen Minh Triet had a busy day in Cuba on September 28 (local time) before leaving Havana for an official visit to Chile.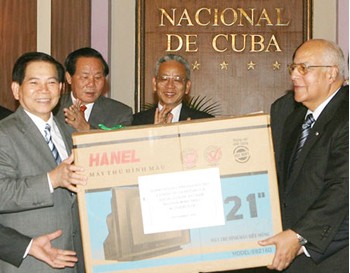 President Triet (L) offers Vice President of the Cuban Council of Ministers, Ricardo Cabrisas, a gift from the Vietnamese people (Photo: VNA)
At a meeting with Fidel Castro, the great leader of the Cuban people, President Triet affirmed the Vietnamese Party, State and people's friendship, along with its faithful solidarity and wholehearted support for their Cuban counterparts.
He said he believed that under the leadership of the Communist Party of Cuba, Fidel Castro and President of the Cuban Council of State and Council of Ministers Raul Castro Ruz, the Cuban people will overcome all challenges to achieve new successes in their national development and in building socialism, making remarkable contributions to the struggles for independence and sovereignty of the people of Latin America and around the world as well.
He also affirmed the Vietnamese people's deep gratitude to the Cuban leader as well as the people of Cuba for their support and encouragement during the country's past struggle for national independence and its current programme of national development.
For his part, Fidel Castro congratulated Vietnam's achievements in socio-economic development and thanked the country's people for their support, solidarity and cooperation with the Cuban people.
At the meeting, the two leaders talked about global issues such as the economic crisis and climate change, stressing that developing countries should strengthen solidarity and cooperation as well as play a greater role in addressing these issues.
On the occasion, President Triet presented Fidel Castro a Vietnamese copy of a book entitled "One hundred hours with Fidel" written by Spanish-French journalist Ignacio Ramonet and published by the National Political Publishing House in August 2009.
Earlier, the Vietnamese leader received the President of the Cuban National Assembly, Ricardo Alarcon de Quesada. He affirmed that Vietnam wishes to boost and deepen its comprehensive cooperation with Cuba for the cause of protecting national independence and building socialism in both countries.
Recalling the deep impression left by his visit to Vietnam in June 2007, the Cuban NA President spoke with admiration and great praise of Vietnam's exceptional achievements in socio-economic development. He acknowledged that the two countries embody the same ideas, saying that Vietnam and Cuba together symbolize hope for the world's revolutionary activists.
On the same day, President Triet attended the Vietnam-Cuba Business Forum, where he delivered a speech analyzing Vietnam's potential and its strength is areas where Cuba might step-up cooperation.
He pointed out that Cuba's strengths are health, education, sports and bio-technology while Vietnam is strong in agricultural and industrial production, aquaculture and services. Thus, Vietnamese and Cuban businesses must strengthen joint-efforts to take full advantages of what each country has to offer, he added.
At the forum, President Triet and high-ranking officials from the two countries witnessed the signing of the Vietnam-Cuba Business Joint Committee's 2009-2010 Action Programme alongside agreements on cooperation in food production in Cuba during the 2009-2015 period, and cooperation on transport between the two governments, and a cooperation agreement between the Vietnamese Ministry of Industry and Trade and Cuba's Ministry of Light Industry.
The Vietnamese President and Cuban Vice President of the Council of Ministers Ricardo Cabrisas attended a ceremony to hand over 3,000 tons of rice donated by the Vietnamese people in support of the Cuban people.
On the occasion, several Vietnamese organizations and businesses presented 500 sets of computers and other learning and working equipment to Cuban agencies and students.
On September 29 (local time), State President Nguyen Minh Triet left Havana for an official visit to Chile at the invitation of President Michelle Bachelet.