Bui Hong Linh, Deputy Minister of Labor, Invalids and Social Affairs, said at a seminar recently that approximately 6,000 workplace accidents occur in Vietnam each year, killing or injuring hundreds of laborers since 2005 onwards.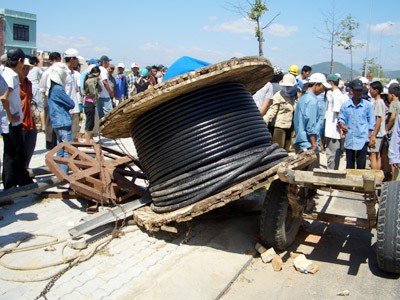 A scene after a labor accident (Illustration photo)
The deputy minister was speaking at a seminar themed "Promoting prevention of occupational hazards at workplaces" organized by the Bureau of Labor Safety, part of the Ministry of Labor, Invalids and Social Affairs (MoLISA).
Mr. Linh said that in actual fact he believed that the figure was much higher than stated by MoLISA.
The country also reported around 27,000 people suffering from occupational diseases in 2010. This is costing a huge economic loss going into hundreds of billions of dong each year.
Ha Tat Thang, chief of the Bureau of Labor Safety, said labor safety regulations and increased checks of enterprises should be conducted to promote a safety culture at workplaces. MoLISA said it intends to submit labor safety codes to the government for approval.