Temporary steel platform parking lots are proving to be most convenient and effective in Ho Chi Minh City, especially in view of the sluggish progress of underground parking projects.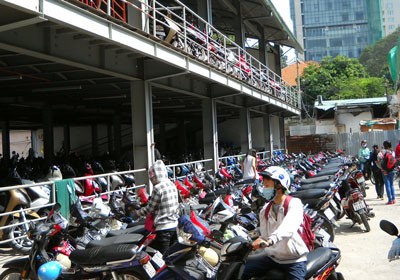 A temporary steel parking structure in HCMC (Photo: SGGP)
With the City facing a perennial shortage of parking space, these temporary steel platform parking lots, which can be constructed from one to two storeys high, are effectively meeting the parking needs of thousands of commuters. 
The Mien Dong Bus Station parking was constantly overcrowded, far beyond capacity, especially on holidays. At the end of 2010, the board of directors there came up with the idea of building a two-storey steel parking lot at a total cost of VND7 billion (US$335,500).
Thuong Thanh Hai, director of Mien Dong Bus Station, said that earlier they had to create an additional parking space in the front yard of the station during holidays. Ever since the new temporary parking structure was built, the station easily accommodates 4,000 motorbikes a day.
Mr. Hai has proposed to City authorities to permit managers of such steel parking lot structures to be allowed to charge higher parking fees, so that their investment costs can be recovered sooner.
The HCMC Youth Cultural House is located in the center of the City and attracts thousands of students every day. The parking lot there was already rather narrow and had to accommodate motorbikes of nearby office workers as well, which made a very congested space.
The Cultural House then coordinated with the HCMC Voluntary Youth Public Benefit Service Company to build a one-storey steel parking structure at a cost of VND2 billion ($96,000).
Tran Quang Long, from the HCMC Voluntary Youth Public Benefit Service Company, said that earlier motorists lined up to park at the Cultural House, but ever since the parking structure was put up, they can accommodate from 3,000-4,000 vehicles a day, even in peak hours.
Long said that besides the Youth Cultural House, his company has also built a similar parking structure in Dam Sen Cultural Park.
This model for building parking lots has proved very effective and should be replicated as it puts into use narrow spaces. In addition, construction of steel parking lots is quite simple and does not require much time and investment. Dismantling such parking lots is equally simple, when not in use anymore.
This is a bold new idea and has proved to be both innovative and effective in HCMC, and authorities must look into facilitating licensing of these structures to assist investors, said Long.