The Central Steering Committee for Prevention and Control of Corruption began functioning in Hanoi from February 4.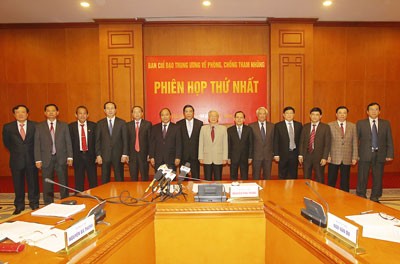 The Central Steering Committee for Prevention and Control of Corruption (photo SGGP)
At a meeting, To Huy Rua, Secretary of the Party Central Committee, announced the Politburo's decision to set up a 16 member committee and designate Nguyen Phu Trong, Party General Secretary, as head of the Committee.
Committee members heard a review of anti-corruption activities in 2012, identifying major areas requiring attention, and outlining work agenda for 2013.
Mr. Nguyen Ba Thanh, Permanent Deputy Head of the Steering Committee, presented plans to assign tasks to members of the Committee and planning of a work program for 2013.
Party leader Trong stressed in his speech the committee's aim to usher in a new era that would be corruption free.
The General Secretary said that members and leaders of the Party Central Internal Affairs Committee and the Standing Central Steering Committee on Prevention of Corruption would always maintain honesty and integrity.
He hoped that the committee would soon set up an organizational structure, and hire good and efficient staff, as well as build strict rules and regulations.
The new Central Steering Committee for Prevention of Corruption, organized under the Party Central Committee's Politburo and Department of Internal Affairs, will provide a legal foundation to fight anti-corruption activities.
The Party Chief said that the Department of Internal Affairs should encourage its members to involve themselves in the committee's work with a view to actively participating in its tasks.