The Government will continue with its policy to stimulate the economy and support social welfare in 2010, extend stimulus packages but lower loan interest subsidy, limiting the number of targeted beneficiaries and shortening the duration of loans.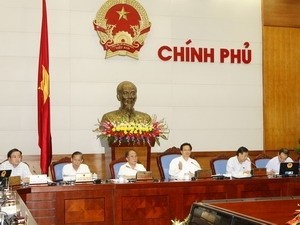 A view of the Government's two-day meeting that ends October 30 in Hanoi (Photo: VNA) 

Prime Minister Nguyen Tan Dung made this decision at the Government's October session after a two-day sitting on October 29-30 to discuss the socio-economic situation and the implementation of economic stimulus polices.
Under the decision, the subsidized interest rate will how be halved to 2 percent (for mid and long-term loans.)
According to the Minister of Planning and Investment, Vo Hong Phuc, the Government at the fifth session of the 12th National Assembly reported an estimate of VND145.6 trillion (more than US$8 billion) for implementing policies on economic stimulus and social welfare in 2009 and coming years.
The sum includes VND17 trillion (about $1 billion) for loan interest subsidy, VND90.8 trillion for development investment, VND28 trillion for tax exemptions and reduction, and VND9.8 trillion for other plans.
By October 22, the total loans with subsidized interest rates have amounted to VND412.1 trillion, with 15.1 percent for State-owned enterprises and 84.9 percent for non-State and household businesses.
The opinions at the session agreed that the policy subsidizing interest rates was one of the optimal solutions to stimulate economic development and stop the economic slowdown.