A storm sank 13 fishing boats in the southern province of Ca Mau while a tornado in the central highlands flattened 70 houses.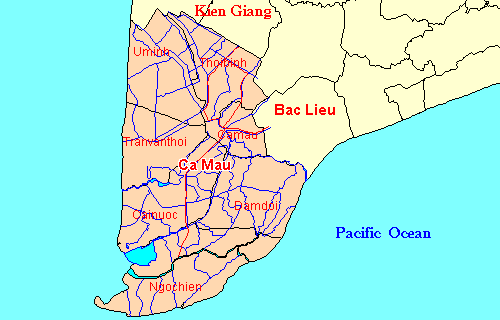 Flooding causes several losses in  the southern province of Ca Mau  
Three more fishing ships sunk on Tuesday in the southern province of Ca Mau, bringing total losses to 13 boats and 70 drowned or missing, according to the Center for Flood, Storm Prevention, and Rescue Operation.
Rescue workers have recovered 66 bodies.  Fisherman Tran Thanh Vu, Truong Khai Hung, Nguyen Van Ung and Phan Van Hung remain missing
The Ca Mau People's Committee, the Center of Flood, Storm Prevention, and Rescue Operation and border guards participated in the effort to look for the missing fishermen and helped salvage boats.
Sailors Le Van Chien, 20, and Tran Huu Duan, 35, are still missing in the central province of Phu Yen.
A boat upturned in the central city of Da Nang at 1 p.m. Wednesday. There were two injuries and one death. Fierce wind and torrential rains upturned Mr. Le Xuan Tinh's boat while his family, including his wife and his daughter, were sleeping.  Mr. Tinh was swept away while his relatives were injured.
In the highland province of Dak Nong, a tornado flattened 70 houses and damaged five classrooms in Chu K'Nia Commune in Districts of Chu Jut and Krong No. A breeding farm in Kim Anh Co-operative collapsed causing estimated property damage of VND200 million (US$12,000).
Flooding from torrential rain has swept away homes and people in the central province of Binh Thuan. The two worst-hit districts are Tuy Phong and Tanh Linh, where storms damaged Gia Huynh Bridge and submerged the North-South Railway. Local schools canceled class Tuesday.
One child died, four were houses were flattened and 15 fishing boats were swept out to the sea in the district of Tuy Phong.  An evacuation of residents was carried out.
One hundred houses were submerged in up to 1.5m of water, over 500 head of cattle and 5 hectares of fish were carried away by torrential rains in the last several days in Da Loan Commune in the highland province of Lam Dong.
Five hectares of cropland and 3 hectares of corn are submerged. Some parts of the province are isolated due to inundation. More than 1,600 students of all levels have been told to stay home for reasons of safety.