According to the Central Steering Committee for Flood and Storm Prevention and Control, tropical storm 'Bebinca' triggered high waves, heavy rain and strong winds, breaching several sea dykes and inundating vast areas of farm crops across the northern region.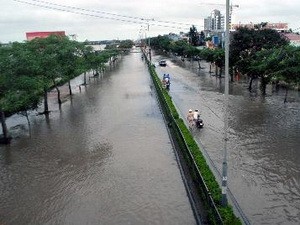 Heavy rainstorm caused flooding in several streets in Hai Phong City
High waves breached several dykes along the coast in Hai Phong City, Nam Dinh, Quang Ninh and Thai Binh Provinces.
 
Hai Phong City alone saw at least 90m dykes collapse in Cat Ba Island and Do Son tourist site. High waves also flowed over sea dykes in Cat Hai Island to cause landslides at several spots.
More than 2,000 hectares of seafood farms and 44 hectares of vegetable farmland were devastated by the storm.
Heavy rains brought in flashfloods in Nam Kien Spring in Nam Can Commune of Ky Son District in Nghe An Province in the north central region. Two people were reported missing on June 23.
The province also lost more than 8,550 hectares of rice and vegetable farming area and nearly 400 hectares of seafood farms.
Heavy rain inundated main roads in the central area in the neighboring city of Ha Tinh. About 1,323 hectares of rice, vegetable and seafood farm crops were inundated.
related article:
Storm 'Bebinca' weakens, brings heavy rain in north