The Ministry of Health on Monday distributed large amounts of medicine to people in typhoon-affected provinces like Quang Binh, Ha Tinh, Nghe An, Thanh Hoa, and Ninh Binh in an attempt to prevent any outbreaks of disease after the storm.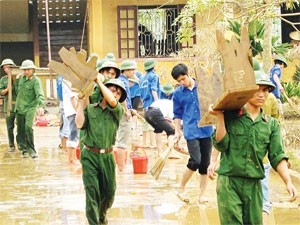 Military officers and volunteers help residents in Thanh Hoa province rebuild damaged houses after the storm

The ministry also asked the Preventive Medical Bureau to watch closely for any signs of possible disease, and in the event, to send doctors from military hospitals to affected provinces.

In another move, the Price Management Bureau instructed directors of the provincial departments of finance to apply measures to stabilize the prices of basic commodities and control price-hikes after the storm.

Those provinces also dispensed thousands of tons of rice to residents in hardest-hit areas.

Meanwhile, heavy rains caused by a cold front building in the north are putting central provinces Thanh Hoa and Thua Thien-Hue at high risk of floods and landslides.

The front will also cause a fall in temperatures and strong winds to hit the Tonkin Gulf and central coastal areas. Rain in other central and northern areas is expected, the Hydro-meteorology Research Institute said.

A detailed forecast predicts heavy showers in central areas with temperatures from 20 to 29 degrees Celsius; of these Thanh Hoa and Thua Thien-Hue are at the highest risk for flooding and landslides.

The north will see light rain with cool temperatures from 17 to 28 degrees Celsius, and the south will have rain with sunny intervals and temperatures between 22 to 33 degrees Celsius.