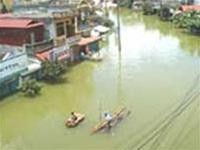 Flooding in northern Viet Nam
Heavy rain from Typhoon Prapiroon has inundated more than 800 homes in northern Viet Nam, authorities in the region say. Rising waters in the past three days have flooded swathes of Yen Bai and Quang Ninh and ruined 2,000 hectares of crops in the two northeastern provinces. Even worse, a rain-induced landslide has killed one person, the first reported death so far.
More than 100 families in Quang Ninh, where the danger of landslides is the highest, have been flooded out of their homes for several days, and the rising water has destroyed numerous dykes and roads.
Also in Quang Ninh, a dam made of tailings from a nearby open-cut coal mine broke and unleashed a torrent of water that swept away 96 houses and left hundreds of villagers homeless.
In Yen Bai, where Prapiroon claimed its first death, rescuers say they know of nearly 200 homes being destroyed already.
In the mountainous province of Cao Bang, more than 600 homes and 1,500 hectares of crops went underwater, and traffic on the roads has been severely hampered.
In Lao Cai in the far northwest, a large landslide has damaged six irrigation systems and three houses. The province's direct losses from the storm are tipped to reach VND5 billion.
The water level in Ha Noi rose to 6.4 meters on Wednesday and the Thai Binh River measured 3.15 meters, or 15 centimeters higher than the previous day.
The depression moving towards western Viet Nam is forecast to bring widespread rain and wind in next two days.
Down south, the Mekong River is continuing to swell, by 5 to 10 centimeters a day according to the weather bureau. And in Dong Thap at the heart of the delta, over 4,700 families are being evacuated from areas prone to landslips.

Related Articles:
Mekong Delta Gears up to Prevent Flooding
Cao Bang Province Flooded by Heavy Rains
Hundreds People Evacuated from Area Affected by Prapiroon
Typhoon Causes Heavy Rain in Northern Viet Nam
Nearly 300 Fishing Boats Shelter from Storm
Typhoon Prapiroon to Hit Viet Nam Soon
Storm Prapiroon Hits Tonkin Gulf
Storm Prapiroon Brings Heavy Rain to Southern Viet Nam
Flood Predicted Possible in Southern Viet Nam