I was a journalist at 'Dai Doan Ket' Newspaper and lawyer Nguyen Huu Tho, also known as 'Uncle Ba' was the Editor-in-Chief.
I remember the time Uncle Ba asked me about Uncle Chin's health after my visit to Laos.
'Uncle Chin' was how one affectionately addressed the Lao Prince Souphanouvong.
Uncle Ba recalls, "I met Uncle Chin three times since he came to Hanoi to attend the funeral of Uncle Ho, and we sat next to each other at the summit meeting of heads of three countries of Indochina, and I also met him when I visited the Lao Liberation area."
During these meetings Uncle Ba and Uncle Chin became well acquainted and grew fond of each other.
"Even when we had not met, we had heard, read and known each other through several anecdotes, many folklore as well as newspapers and even through our enemies", Uncle Ba said.
The two old revolutionaries involved in revolutionary activities against the French colonialists, US imperialists and feudal lords were on many occasions arrested.
Lawyer Nguyen Huu Tho who became President of the Republic of South Vietnam, said "I was exiled for 2,160 days in Phu Yen, until I was freed in October 1961. Uncle Chin was imprisoned for 300 days in Phone Kheng and then broke out of that prison in May 1960".
The only differing point between the two men is that Uncle Chin worked with Uncle Ho, but Uncle Ba never once met Uncle Ho until the day he attended Uncle Ho's funeral.
Uncle Ba has happy memories of Uncle Chin and his wife. " On the morning of December 20,1969, I has just visited China, the Soviet Union, and stopped off in Hanoi to prepare for the trip to the south when I met the couple, who had returned to Vietnam after overseas business trips", Uncle Ba said.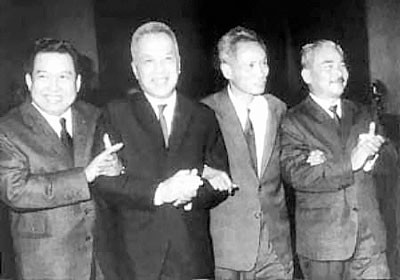 From left: King Sihanouk, President Nguyen Huu Tho, Prime Minister Pham Van Dong, and Chairman Souphanouvong, at the Indochina People's Conference.
That morning I was reading a newspaper when the bell rang and I saw Uncle Chin and his wife standing with a beautiful bouquet. As I did not see their vehicle and the guards, I thought two elderly people had walked into my house. After they were seated, I asked where they were living as I wanted to return the call. Uncle Chin laughed, "We are living close to you. You live in No.82 and we live in 84 Nguyen Du Street ". Then he added, smiling, "Well, Vietnam and Laos our two countries only separated by a wall".
A long time after the Vietnam War ended, Uncle Ba sent Uncle Chin a book titled, "We are under a common flag". When I had a chance to visit Vientiane, I brought the book to him", Uncle Ba said.
Holding the heavy book in his hand, Uncle Chin said that it was a beautiful book, he flipped through each page and then solemnly gazed at the first page, and at the signature of lawyer Nguyen Huu Tho.
Uncle Chin recalled the past and said, "Without North Vietnam's military strength, we could not have escaped the enemy. Yes, I want to thank Uncle Ho, the army and people of Vietnam".