Many inhabitants of 1B quarter, An Phu ward, Thuan An town got to run away due to the strange gas from ABS factory this Thursday.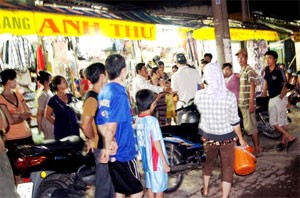 Many residents are gathering and discussing the strange gas issue caused by Tico Inc (Photo: Nguyet Trieu)
Around 6h30 pm in June 16, hundreds of people live in 1B quarter, An Phu ward, Thuan An town in Binh Duong district had to run away from their apartments to escape a strange gas from ABS factory, a brand of Tico Inc. specializing in producing detergent at 83/2B in An Phu ward, Thuan An town.
There are at least four people must be given emergency aid, including one child.
"Around the happening time, I smelled something pungent, and then I felt very tired, dizzy and wanted to vomit right away", said 75-year-old Bui Thi Diep, who also live at the 1B quarter. Until 9pm, Diep was still very weak in spite of being drip – fed.
Hoang Thi Nham told that her child, who was only 25 days old, suddenly cried out, then flowed out milk and was unable to breath. Very quickly, she brought the child out of her apartment and ran away with many other people who live in the neighborhood.
Together they had run hundreds of meter away from the gas but it still made them all hard to breathe, dizzy and their eyes were very burning.
On hearing of the problem, Police of An Phu ward, Thuan An town cooperated with the local evironment force to check the case and made a report of the situation at the Tico Inc. – where the gas had escaped from. The police also made a list of patients who had fainted for their investigation.