Strange Ha Mon religion that was established in the Central Highlands not only spreads superstitions activities, pushes followers' family to poverty and famine but also sets up an armed force to fight against the government.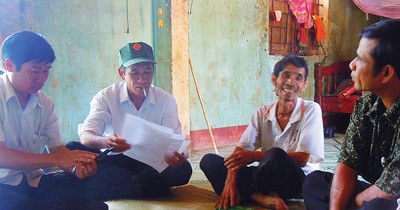 A Riu (2nd L) talks with guests in his house after leaving Ha Mon religion.
When the government was scheduling to build a hydropower plant in Plei Krong, Kon Tum province to provide energy for the region, the government pledged to provide every household, who had to remove from the plant area, 1,000 m2 of land with a house on land and 1 hectare of land to plant rubber trees.
Ha Mon missionaries joining hands with K'sor Kok who stimulated ethnic people against the government in 2001 and now lives in exile in the United States called on followers not to remove from a area which was planned to be a hydropower reservoir.
The missionaries fabricated that Mother Maria said Plei Krong hydropower reservoir area is the sacred ground and people should not move to another location.
Because of trust in their words and fear of punishment by Mother Maria, many people did not remove and built huts on Sa Thay river banks.
The 9th storm in 2009 attacked the village, destroyed huts and caused casualties.
At the time local authorities urgently supported food, clothes and promptly removed residents in the area to another safe location.
Some of them were very hungry but because of fear of Ha Mon missionaries they did not receive help from the local government.
A Riu, a Ha Mon follower said that during the time he went with Ha Mon his family was very poor, sometimes his children had nothing to eat but he did not dare to come back to the Christian.
After a meeting with province's Party leader Ha Ban I left Ha Mon and returned to the Christian, A Riu said.
Mr Ha Ban warmly talked with us, explained the resettlement policy for ethnic people and confirmed that the policy did not separate those who followed Ha Mon, he added.
A Riu showed his new house and field granted by the local government.
Tens of households in his village who had followed Ha Mon religion are now living in new red roof houses and working on fertile fields.
Plot of using religion for anti-government purpose
According to a report by the police, after Ksor Kok knew about the hydropower plant through Vietnamese media he ordered his brother Ksor Ni in Vietnam to contact Ha Mon missionaries such as A tach, A H'yum.
Ksor Kok plotted to use the religion to hide his anti- government activities.
Ha Mon missionaries enticed young people in Bo Chac village to set up an armed force so- called protective team" in forests and trained them martial arts.
The group blocked unique road to the village, injured those who did not want to go with them.
They also held a propaganda meeting for Ksor Kok who they called Mr. President Ksor Kok to talk with followers through satellite phone in H'Ra ward, Kon Tum province.
In the meeting Ksor Kok vowed to send more money to new FULRO's combat operations against the government in the Central Highlands.
Ksor Kok asked them to contribute more food and money for new FULRO to set up a state of minority ethnic groups in the highlands.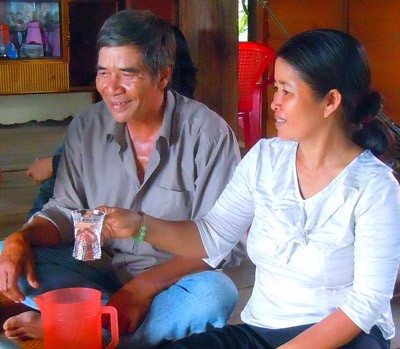 Ksor Nhok and his wife
However, when Ksor Kok's brother Ksor Nhok heard about the Ksor Kok appeal, he tld Sai Gon Giai Phong Newspaper that he did not trust in Ksor Kok.
Ksor Kok don't take care of old parents. He did not return home when his mother passed away while local authorities took care of his mother and held her funeral".
I don't recognize man like him a president. He lives in the United States but called on people to leave family, live in forests. I think he isn't a good man. He tortured minority ethnic groups too much".
"In 2001, Ksor Kok instigated people to leave Protestants to join De Ga Protestant that he said to be for minority ethnic groups in the Central Highlands. I think there is only one God, not another God only for minority ethnic groups".
He expressed his feeling under the way of people in the Central Highlands: "Thinking of Ksor Kok I am very sad in my stomach".
Related Articles: