Recently, the cultivated area under strawberry and artichoke, both famous specialties of Da Lat City, has been decreased due to unstable price factors and spread of plant disease.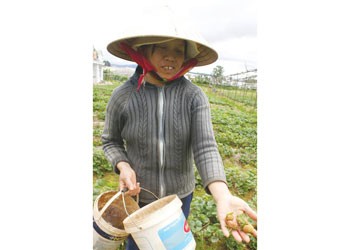 Disease has destroyed strawberry crops in Da Lat City. (Photo: Sggp)
Ho Ngoc Dinh, chairman of the Farmer's Association of Ward 12 in Thai Phien village in Da Lat City said that the village now has only 40 hectares under artichoke cultivation, a decrease by 10 hectares since last year.
From 1997 to 1999, artichoke cultivation was spread across more than 100 hectares and sold at a high price of VND120,000 per kilogram.
Even though it remains a favorite food item, price of artichoke has continued to fall since 2007, with the fresh flower selling at VND10,000-VND15,000 a kilogram and the dried for about VND70,000 per kilo.
Farmers have turned to flower cultivation to supply to the local and export markets to reap higher profits, using greenhouse technology.
Strawberries too are not being seen much in Ha Dong and on Phu Dong Thien Vuong, Mai Anh Dao and Nguyen Tu Luc Streets, because of constant threat of disease.
Strawberry area is currently about five hectares only, instead of 30 hectares in 2004-2006.
Disease has been attacking strawberry crops for several years. Symptoms of the disease include withered leaves, reddening of branches and shriveled fruits.
According to the Vietnam Agriculture Science Institute, the disease affecting strawberry crops is caused by a fungus in the rainy season, which inhibits the plant from drawing on nutrients and water.
The institute has asked farmers to keep their gardens clean and use some chemical pesticides.