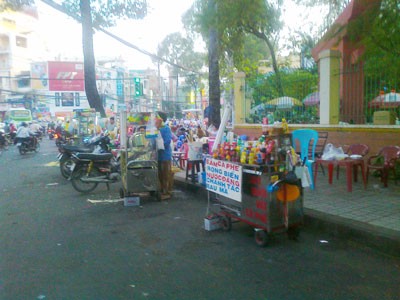 Pavement street vendors outside Hoa Binh Theater in District 10 (Photo: U. Phuong)
Street vendors will be compelled to learn the importance of food safety and hygiene and from now on will receive certificates only after such training.
The Ministry of Health has issued a circular that will compel street vendors to follow food safety norms from January 20.
As per the circular, district authorities will organize street vendors to sell food in public places such as bus stations, train stations, tourist parks, festival and exhibition areas, and pavements.
Street vendors will undertake a training course on the importance of food safety and hygiene after which they can apply for a certificate. They will be compelled to keep the surrounding environment clean and tidy.
They are also required to take medical check-ups and anyone suffering from infectious diseases will not be allowed to sell food on roadsides.