Once again the streets of Ho Chi Minh City are getting flooded as soon as the wet season arrives, despite the millions of dollars the city government is spending to improve the drainage system.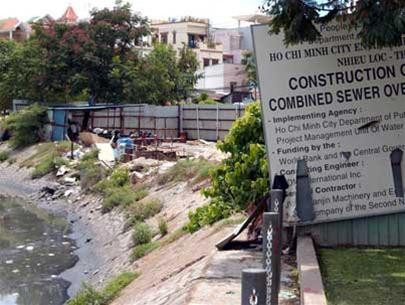 When the project of Nhieu Loc - Thi Nghe canal is finished, the drainage in seven districts would be improved
Many projects are in the pipeline, as it were. Because they are linked, it needs all of them to be completed before the runoff from the frequent downpours can make its way to the river instead of filling the low-lying streets.

Delays are rife. For instance, the US$100-million improvement of the drains around Hang Bang Canal, which would ease flooding in districts one, five and six, was meant to be finished in the middle of 2006. It remains uncompleted.
Another example of tardiness is the unfinished clearing of garbage and drains prior to dredging Nhieu Loc - Thi Nghe Canal.

Once the US$200-million project is finished, the drainage in seven districts should be much improved, but when that will happen remains to be seen.

Reasons are given for the delays. According to a report from the Department of Planning and Investment in February, "underground work and traffic problems" are impeding one drainage project.

Reporting on other projects that have fallen well behind schedule, the Ho Chi Minh City Department of Construction blames a lack of workers and equipment in one case and the slow pace of site clearance in another.

Furthermore, some drainage projects have been finished but flooding still occurs because the next project in the downstream chain is still under construction, therefore the drains are not connected and the roads continue to fill up with water when the rain comes.