The Prime Minister has approved of strict measures to curb the use of plastic bags in future, in an effort to reduce environmental pollution and eliminate use of non-degradable products by 2020.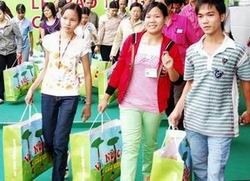 Bags friendly to environment are encouraged to use (Photo: VGP)
Under these measures, by 2020 the country will reduce 65 percent of non-degradable plastic bags that are currently being used in supermarkets and commercial centers and 50 percent in traditional markets.
The main target will be to raise awareness among the public and enterprises, and show the long time damaging effects of plastic bags that do not degrade or decompose for thousands of years, thereby polluting the soil.
The government plans to charge a fee for treatment of plastic bag waste and issue a ban against non-degradable plastic bags of 30 micrometer thickness to better facilitate collection and recycling.
Plastic bags are very popular with both retailers as well as consumers because they are cheap, strong, lightweight, functional, as well as hygienic for carrying food items and other goods.
However, they are the worst environmental polluters because they do not decompose as waste, but retain their state for thousands of years.
Taking a tour of traditional markets such as Soai Kinh Lam, Kim Bien, Binh Tay in District 5, it was estimated that a shop uses 2-10 kilograms of plastic bags on an average. A kilogram of plastic bags costs VND22,000-VND36,000 (US$1.05-$1.7).
Whenever a shop assistant runs out of plastic bags, he just calls for more as they are readily available, with no concern for quality or effect on environment.
Very few shops care to use biodegradable plastic bags, which are distributed by women's association in the district, of which shop assistants are not even aware of. Besides, the cost of such bags is much higher, at VND44,000-VND50,000, sold mainly in supermarkets and not so much through retail stores.
About 70 tons of plastic bags are used up in a single day in Ho Chi Minh City, said Ngo Nguyen Ngoc Thanh, deputy head of the City Waste Recycling Fund. Plastic waste accounts for the second largest component of solid waste in urban areas after food.
Moreover, many plastic bag manufacturers are not registered, and hence are unconcerned about quality and environment protection. Consumers too find such carry bags convenient, and have long been used to them, a habit that will be hard to break.