The endangered striped rabbit (Nesolagus Timminsi) has been discovered in Sao La Nature Reserve in the central province of Thua Thien-Hue for the first time.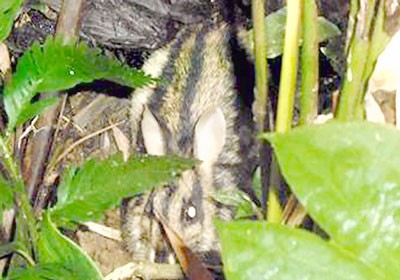 A tripled rabbit found in Saola Nature Reserve in Thua Thien-Hue Province
According to Le Ngoc Tuan, director of the Sao La Nature Reserve, camera traps have helped them discover several endangered species, which are listed in Red Books of Vietnam and the International Union for Conservation of Nature (IUCN) like saola, giant muntjac, Truong Son muntjac and edward's pheasant. These species are in danger of extinction.
Recently, they found out tripled rabbits in the Natural Reserve. There are only about 100-200 tripled rabbits in the nature, which are in the verge of disappearance now.
Striped rabbit is an ancient species that has been found in Truong Son Mountain Range, where the Nature Reserve belongs to. Earlier scientists discovered some in the north central provinces of Quang Binh and Nghe An.
Truong Son Mountain Range in the central region of Vietnam is a high biodiversity area. Long stretching mountains together with sloping and tough terrain creates good living environment for several flora and fauna species.