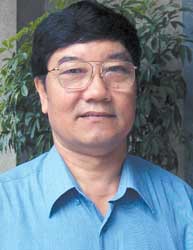 Mr. Tran Van Ta
The Vietnamese Government is seeking to fight wastefulness. Sai Gon Giai Phong Newspaper has interviewed Deputy Finance Minister Tran Van Ta about efforts to ensure the effective use of public land and cars. Excerpts:
SGGP Reporter: Can you tell us the current situation of using public land?
Mr. Tran Van Ta: There is no public land under law. But in reality, public land is understood as land designated by the State to organizations or leased out by the State. At present, much of this kind of land is used inefficiently. The Prime Minister and local governments have made many decisions to withdraw rights to use the land where the decisions are necessary.
The rules on management and use of houses for public purposes will take effect in the first quarter of 2006. Can you tell us the new details of the rules?
To realize the Law on Thrift Practice and Anti-Wastefulness and the Housing Law, the Ministry of Finance is working out regulations on management and use of houses for public purposes. The main purpose is to manage houses allocated to civil servants during their term in office; to rule on investment for building and managing these houses, as well as civil servant's responsibilities when returning the houses to the State.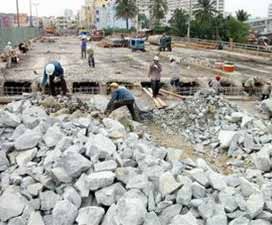 Van Thanh 2 Bridge in Ho Chi Minh City under repair. The bridge has downgraded because of poor quality construction (Photo: Tuoi Tre Newspaper)
Is it possible that no more public cars will be allocated to deputy ministers and lower-ranking officials?
There are two ways that the Ministry of Finance is considering now: to hire cars from companies and to set some cost limits for the car users. Surveys done at some organizations have shown feasibility, and it is possible to carry out from the level of deputy ministers to lower levels. Many deputy ministers have agreed with the ways, so we believe that they can be realized.
When it is the case, how to deal with bought cars?
As for bought cars in use now, we may sell them to transport companies or use them as properties to contribute capital to transport service suppliers. Both ways need to be flexible to minimize waste.
On what bases the ministry set cost limits for the car users. What if the real cost is lower that the limit?
The foundations include some criteria for car users, the real need recorded in the past years at organizations, and the transportation costs. Based on these factors, the cost limits will be close to the real need. If the cost is lower than the limit, the car user will get the difference.
Related Articles:
Measures Discussed to Fight Corruption, Wastefulness in Construction
Prime Minister Stresses Measures for Administrative Reforms
Government Bans Wastefulness during Tet
Ministries Vow All-out Efforts to Combat Wastefulness