Three eighth-grade students, from Ly Phong secondary school in District 5, were seriously injured after being electrocuted on August 31 when they were travelling past a public lighting pillar that was leaking electricity while the street was flooded. The event occurred near Tran Hung Dao – Nguyen Bieu crossroads in the district.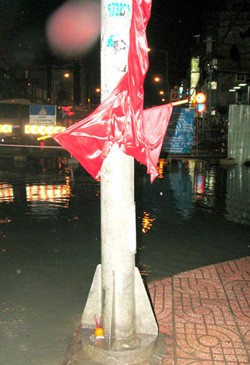 A lighting pillar leaks electricity killing an eighth-grade student (Photo: SGGP)
Co Quoc Duy died immediately and two others were rushed to hospital.
An Binh Hospital September 2 said that they had been discharged from hospital.
The event mirrors an incident five months ago in Au Co Street, Tan Binh District, which became flooded after heavy rains and an electric cable snapped and fell on a 22 year old woman who was travelling by motorcycle at that time.
City residents are becoming more concerned about the dangers of poor infrastructure in the city, with people finding it increasingly hard to avoid "traps" near road works that have been carried out unsafely, leaving a lot of pot holes and stones on the street.
Public opinion has warned many times about dangers from the city's current electrical system, with its 'web-like' cables everywhere.
City residents want the electricity industry and relevant authorities to draft solutions to prevent such incidents from occurring again, especially during periods when streets can become flooded.