For years thousands of students from Quang Ngai and Quang Binh Provinces have been going to school on small, wobbly boats that are not even licensed to ply on rivers nor are they equipped with passenger safety lifejackets.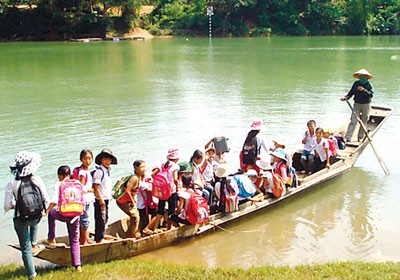 Students going to school by boat without lifejackets from Vang Market Wharf in Quang Binh Province (Photo: SGGP)
Recently, tens of students finished their school early at 10am and rushed to Dong Min Wharf in Binh Duong Commune in Binh Son District of Quang Ngai Province to return home. They took a small boat that also had other passengers and even a motorbike on it and none of the passengers were given safety lifejackets.
Tuyen, the boat owner said that his boat was built to transport sand and not passengers and therefore he does not have a license to carry people. 
Nonetheless, more than 200 primary and secondary students and hundreds of residents need to cross the river to go to school or go about their business everyday. Local authorities cannot afford a bridge and hence they allow boat owners like Tuyen to use their boats as passenger vessels.
Boatman Dinh Van Anh also doesn't have a license to transport passengers from Cham Rao Wharf in Son Nham Commune of Son Ha District. Inspectors from the district have many times examined his boat and suspended operations but Anh continues to operate regardless, as local people need this mode of transport.
According to boatmen and local residents, if they do not travel by boat they will have to make a very long detour to reach the other side of the river.
Nguyen Thi Van, a boat operator, said that she has done this work for more than ten years, even during the flooding season when water currents are strong on Tra Khuc River. Lifebuoys on her boat are just some plastic cans.
Van said she knows it is dangerous to transport passengers across the river like this but she is too poor and has no choice.
Quang Ngai Province has 25 wharfs transporting passengers across rivers and springs. The numbers of boats somehow increase to hundreds during the flooding season.
Similar conditions occur in Quang Binh Province.
Trung Quan Wharf connecting Hien Ninh Commune with Duy Ninh Commune in Quang Ninh District carries hundreds of students across the Kien Giang River everyday. One boat can carry 20 people but the numbers reach 50 on some trips.
Boatmen transport students across the river even in rainy and stormy weather from Cho Vang and Sao Phong Wharfs in Tuyen Hoa District, with none of the students having lifejackets.
According to the Department of Transport in Quang Binh Province, they need 41 bridges for thousands of students to be able to go to school safely, but they are desperately short of funds. As a result, they are forced to allow 60 unlicensed wharfs to operate, all of which operate much above their capacity.