Sugar inventory level exceeded 350,000 tons in September and October this year, double it in the same period last year, reported the Vietnam Sugar and Sugarcane Association.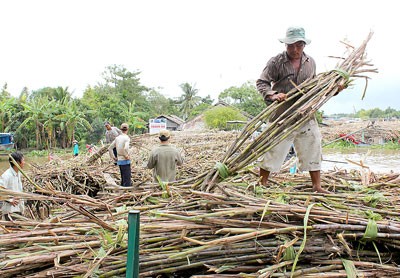 Farmers harvest sugarcanes in the Mekong Delta (Photo: SGGP)
The inventory level is forecast to continue increasing as sugarcane crop has entered peak harvest time this year. The total sugar output is estimated to reach 1.6 million tons this crop.
Processing plants have not rushed to purchase sugarcanes as they used to in previous years.
Mr. Pham Quang Vinh, director of Phung Hiep Sugar Plant in Hau Giang Province, said that inventory sugar was usually sold out ahead of the sugarcane crop in previous years. The inventory level was 5,000 tons at the same time this year. From mid September to early October, they have produced an extra of 6,000 tons.
Despite of lowering the price, the plant has been able to sell VND2,000 tons so far, he added.
The Ministry of Industry and Trade forecast that sugar supply would continue exceeding demand.
Processing plants have reduced the price to VND12,000-13,000 a kilogram and paid farmer less for a kilogram of sugarcane, which was about VND870 in mid October.
Chairman of the Vietnam Sugar and Sugarcane Association Nguyen Thanh Long said that the sugar prices have continuously plunged for the last three years.
A sugar kilogram fetched VND18,000-19,000 in 2012 and fell to VND14,000-15,000 in the following year.
Smuggled Thai sugar has been a threat to domestic sugar industry. The condition is said to worsen next year, when Vietnam will join the ASEAN Free Trade Area and the sugar tariff will be abolished.