There are weaknesses and challenges that the sugar and sugarcane industry must overcome to improve competitiveness and develop in international integration, said experts at a seminar yesterday.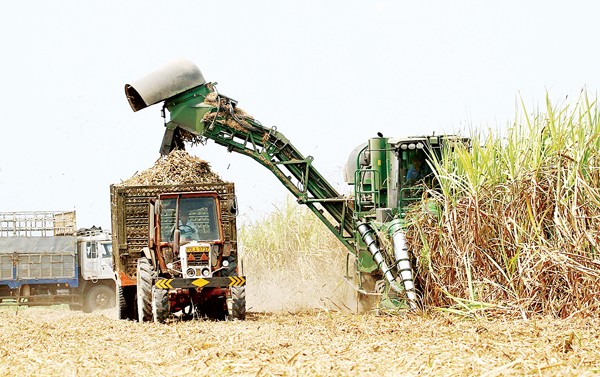 The sugarcane harvester working in a field (Photo: SGGP)
The seminar was hosted by the Ministry of Agriculture and Rural Development to estimate impacts of integration to the sugar and sugarcane industry in Ho Chi Minh City.
According to Mr. Pham Quang Huy, head of the International Cooperation Department, Vietnam has completed negotiations of 12 free trade agreements (FTAs). Of these, eight have taken effect and been implemented.
In the upcoming time, more FTAs will be signed opening many opportunities for Vietnamese goods to penetrate new markets but also putting challenges, forcing weak industries such as the sugar and sugarcane and breeding to find their way in order not to lose in the domestic market.
Chairman of the Vietnam Sugar and Sugarcane Association Pham Quoc Doanh said that sugar and sugarcane industry is one of the first industries building value chains in production, has a moderately good infrastructure system and material zone. Forty one plants have overcome constant loss during the phase of 1995-2005 and equitized.
However, the industry has not obtained the Government's target to increase the sugarcane productivity to 70 tons a hectare and average sugar reserve to 10 ccs (commercial cane sugar). They are 64 tons per hectare and 9.4 ccs now.
The sugar industry has a material zone of 300,000 hectares but they are scattered in localities raising difficulties for mechanization. Meantime, young people have been moving from rural areas to work in big cities and large industrial parks causing labor scarcity.
Many material areas are slopping and unsuitable with sugarcane farming and mechanization.
The connection between sugar farmers and plants has been loose affecting the value chains. Ccs measurement has been conducted by the plants instead of a third independent party. The sharing of profit from local sale and export of sugar and sugar products is a problem between farmers and businesses.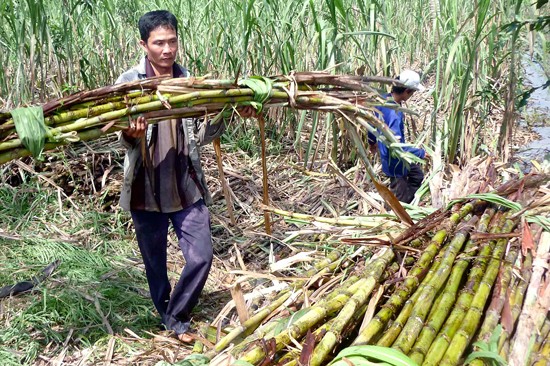 Farmers harvest sugarcane in Vi Thanh district, Hau Giang province (Photo: SGGP)
Mr. Doanh proposed the sugar industry to restructure from planning, farming, irrigation to mechanization and move material zone from mountainous and sloppy areas to plains.
Sugar plants should locate in reasonable places to reduce transport cost, especially in the Mekong Delta with tangled canals and rivers, said chairman of Thanh Thanh Cong Group Dang Van Thanh.
Deputy Minister of Agriculture and Rural Development Tran Thanh Nam advised businesses to be aware of integration impacts to improve competitiveness. He proposed to study the model of the Thai Fund of Sugar and Sugarcane Development as the two countries have many similarities.
Mr. Rangsit Hiangrat, director general of Thai Sugar Nillers group said that the Sugar Act 1984 has created the strong development of Thailand's sugar industry.