More than one million hectares of summer-fall crop escaped the threat of disease and insect infestation, said Dr. Mai Thanh Phung, a member of the Steering Board of Leaf Diseases in the South yesterday.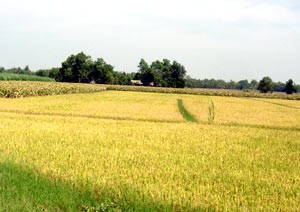 Farmers in the Mekong delta are happy for abundant crop. ( Photo TC )
Only 51,000 hectares of crops suffered from the "ray nau" (a brown backed rice plant hopper) epidemic, accounting for three per cent of of the farmland, and only 34 hectares have been infected with two types of disease.

The first disease, called "vang lun" in Vietnamese, stunts the plant's growth and makes it gradually turn yellow from root to leaf. The other, "lun xoan la", curls the plant's leaves.

About 600,000 hectares of rice plants, sown after the first of June, will require good care against the threat of the migrating brown plant grass-hoppers from July 25 to August 5, Mr. Phung added.

Currently, farmers in the Mekong delta are harvesting about 130,000 hectares of summer-fall crops with a year-on-year increase of 0.5 tons per hectare. Rice is sold at high prices, giving farmers a considerable economic boost.