Profit from illicit cigarettes is 30 time higher than that from legal trade of the product worsening smuggling along border areas, according to the National Steering Committee on the Prevention and Control of Smuggling, Trade Fraud and Fake Commodities.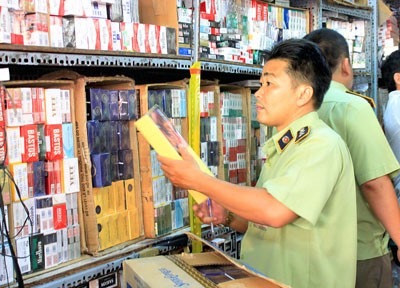 Market management officials inspect a cigarette shop in Tran Quoc Toan Street, District 3, HCMC (Photo: SGGP)
Cigarette smuggling has been prevalent along Vietnam-Laos borderline in the northern central provinces of Thanh Hoa, Nghe An, Ha Tinh, Quang Binh and Quang Tri; and Vietnam-Cambodia borderline in the southern provinces of Tay Ninh, Long An, Dong Thap, An Giang and Kien Giang.
Illicit cigarettes are transported to large cities including Hanoi, Hai Phong, Da Nang, HCMC and Can Tho before being delivered in other areas in the country.
The Ministry of Industry and Trade has reported difficulties in combating against cigarette trafficking.
Smugglers hire supervisors to keep track of authorized organs and update their schedules. They also regularly change transport time to create a diversion and fiercely withstand officials when being spotted and chased.
Contraband cigarettes are usually divided into smaller parts, less than 1,500 packs each, to prevent criminal charge.
The committee admitted prevalent cigarette smuggling across the country regardless of their efforts.
Customs, border military, police and market management forces seized 27 million smuggled cigarette packs in 2008-2012.
The Committee is mapping out a project to battle cigarette trafficking and transportation before submitting it to the Prime Minister for approval this year, according to Deputy Minister of Industry and Trade Do Thang Hai.