August 31 was a milestone for residents on An Binh Islet of Ly Son Island in Quang Ngai Province as it fulfilled a long cherished desire of access to fresh water that will be supplied by Doosan Vina Company of South Korea.
Inhabitants of An Binh Islet, 30km off the coast of central Quang Ngai Province, will now have access to fresh water for the first time in 300 years.
Vo Thi Ta, 86 years old joyfully sees the fresh water (Photo: VNExpress)
The water comes from a de-salination station which was put into use yesterday and will provide free water to more than 500 islet residents.
The South Korean heavy industry group Doosan Vina is funding the US$1 million project, which will de-salinate and filter sea water to produce 200 cubic meters of fresh water each day.
Lack of fresh water in the dry season has been a burden for local people who farm two major crops of garlic and spring onion on the islet. "We have waited for generations for fresh water. Our dream has come true today," said Nguyen Thi Han, 46, a resident of An Binh islet.
"We used to save rain water in tanks, but the scant amount of water saved us from thirst for only a few months. Residents used to buy water from Ly Son Island, 5km away, at a cost of VND180,000 per cubic meter," said 60-year-old Dang Thi Ut.
"Although we collected water during the rainy season from September to April, we were always thirsty in the dry season from May to August," said Nguyen Thi Nhieu.
"We had to save water in the dry season. All local people had to bathe in the sea and clean with fresh water. The used water was reserved for watering plants and washing clothes," she recalled.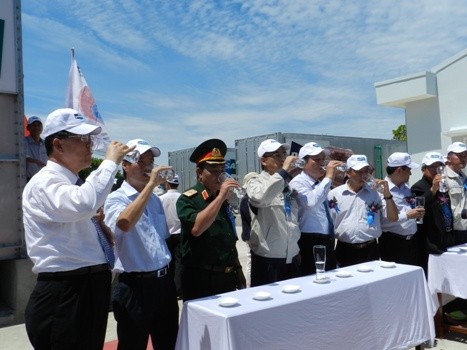 Delegates attend the ceremony (Photo: VNExpress)
As a delegate who was invited to attend the ceremony, Nguyen Hoa Binh, member of the Party Central Committee and head of the Supreme People's Procuratorate exclaimed, "In the vast sea island, lack of water is really a paradox!"
The one sq.km islet has yet to get access to an electric grid or the Internet, while the solar energy system only offers enough power for a few hours of light or for TV.
According to the Quang Ngai Provincial Party Committee Secretary Vo Van Thuong, though the project's working capacity may be small, but it is very large in significance.
"In the future, Quang Ngai will develop tourism in this beautiful island", he said.
In addition to providing fresh water for 120 households of 500 people, the amount of water produced in excess of the actual demand will be stored and sold to residents of An Hai, An Vinh (big island), Thuong added .
In addition, Doosan Vina has decided to offer two electricity generators to operate and illuminate 12 households with a capacity of 128 MW, worth more than VND20 billion.
Doosan Vina General Director Ryu Hang Ha, said, "Doosan Vina is equal to the world's leading companies in water treatment and accounts for more than 46 percent of the world market share."
He hoped that the Vietnamese domestic market will access more advanced technologies from Doosan in future.