A detoxification house in the Central Highlands province of Gia Lai has treated 33 Agent Orange/dioxin victims and members of the public after two months of operation.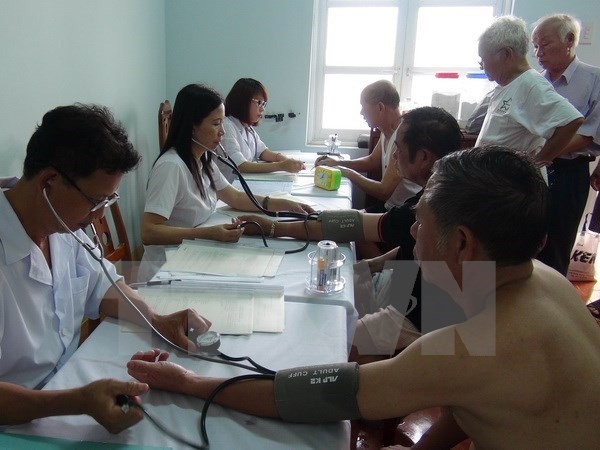 Medical workers give check-ups to AO/dioxin victims (Photo:VNA)
The first facility of its kind has two rooms that seat 24 clients and uses imported equipment.
Before and after each treatment session, which lasts 21 consecutive days, clients are offered health check-ups and vitamin and mineral drinks.
On August 9, the Association for Agent Orange/Dioxin victims of the central city of Da Nang held a number of activities to mark the Day for Vietnamese Agent Orange/Dioxin victims (August 10).
These included performances, folk games, and culinary activities. The organising board presented gifts and financial support for five families of Agent Orange/dioxin victims.
On August 6, the Ho Chi Minh City War Remnants Museum, the Peace Committee and the Cultural Heritage Association met and presented gifts to 100 AO suffers in the city.
In the northern province of Thai Binh, which 34,000 AO victims call home, authorities have provided welfare support for 22,000 of them.
The provincial AO/Dioxin victims association has recently opened vocational training courses for victims and their relatives.
This year, it opened industrial sewing and weaving classes in Thai Thuy and Tien Hai districts, attracting 270 trainees.
Additionally, a project to improve the health of AO/dioxin victims by the Hubbard method has benefited numerous sufferers.
On the occasion, more than 19,000 AO victims have received gifts, each worth 200,000 – 300,000 VND (9.17-13.76 USD).
Since late 2011, 1,200 victims in Thai Binh have undergone the detoxification process, lasting 22-24 days.
In the southern province of Dong Nai, the provincial Association of Victims of AO/dioxin donated over 300 million VND (13,800 USD) to 630 victims in need living in 11 districts and communes.
Since its establishment, the association has raised almost 40 billion VND (1.84 million USD) for house construction, capital and scholarships for those affected by the toxic agent.
About 1,800 war revolutionaries and their relatives exposed to the toxic chemical are entitled to monthly State subsidies.
Dong Nai was the hardest-hit by AO with 13,000 exposed to the chemical, more than 8,000 of which are sufferers.
Areas around Bien Hoa airport and its vicinity are still contaminated with the toxin.
On the occasion of the Day for Vietnamese AO/Dioxin victims, the Vietnam Association for Agent Orange/Dioxin Victims held medical check-ups and treatment, presented gifts and financial support for the victims in Dong Ha city, Quang Tri province.
Nam Dinh province received more than 20,000 USD donated by individuals and organisations in and outside the province to support the livelihood of 158 victims and their families.