The Supreme People's Procuracy held a conference in Hanoi on Jan. 8 to launch their tasks for 2012 in the presence of President Truong Tan Sang.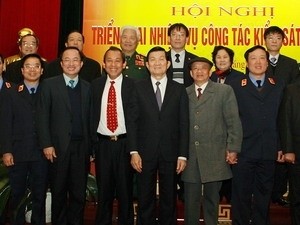 President Truong Tan Sang ( L,4) and delegates at a SPP conference (Photo: VNA)
Speaking at the conference, President Sang praised the procuracy sector's efforts in the past year, saying that the sector worked closely with other judicial agencies to better investigation and prosecution works as well as the enforcement of courts' verdicts. It played an active part in dealing with big corruption cases of a high degree of complexity, winning the public's praise.
The sector should accelerate the settlement of key cases and cases attracting public attention, and devise a project on renewing the organisational system of People's Procuracies at all levels as well as enhance personnel training, he said.
The President asked the sector to review 20 years of the implementation of the 1992 Constitution, focusing on areas relating to the procuracy sector in order to propose amendments and supplements to the Party and State.