Vietnam tops the list of 10 most optimistic nations in the world, according to a survey conducted in late 2010 by the France-based BVA Institute.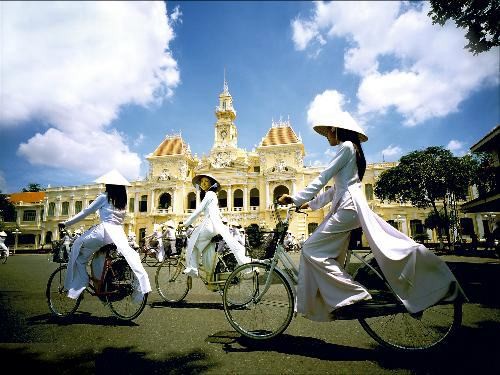 Vietnamese lasses in traditional Ao Dai
The survey's results, which were published by the Le Parisien newspaper on Jan. 3, show that Vietnam ranks first among more than 50 surveyed nations with a proportion of over 61 percent, outdistancing the group's others such as China, Brazil and Peru.
Meanwhile, France ranks at the bottom in the list of the top 10 most pessimistic nations.
The survey indicates that developed nations now show pessimism, while emerging countries such as Vietnam and China, and poor and war-torn nations, including Nigeria , Afghanistan , Iraq and Pakistan are more optimistic.
BVA's analysts said economic growth is an encouragement to people's spirit, adding that Vietnamese have many reasons for their optimism in 2010.
Last year, Vietnam recorded a growth rate of over 6.8 percent while its national flag carrier Vietnam Airlines earned a double profit. Moreover, a new international airport opened in the Mekong delta city of Can Tho .
Over the past 15 years, a total of 15 million of Vietnamese people escaped from poverty. Since 1960, the people's life expectancy increased by 27 years and Vietnamese women's average life-span exceeded the level of 73.
The proportion of children getting access to primary school reached almost 100 percent. Moreover, Vietnam has led the world in terms of robusta coffee export and has been the US 's second largest garment exporter.
According to the BVA, in pursuit of a market economy since it began the renewal process in 1986, Vietnam has created impetus for its economy. Hence, Vietnam is one of the merging countries, which has not only well coped with the global crisis but also taken its advantages to develop.
On the future outlook, up to 70 percent of the surveyed Vietnamese said that they believed in the economy's prosperity in 2011, much higher than the world average of 30 percent.