For two days over March 6th to 7th millions of swallows filled the sky in the Mekong Delta's Dong Thap province to feast on the pesky "ray nau" insect.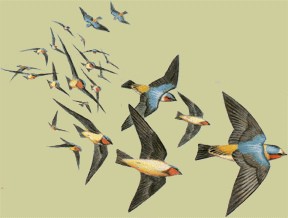 Swallows are welcomed in Dong thap to kill ray nau insect
The small brown insects are the favorite food of the swallows, making the graceful birds a common site in areas where the destructive insects live, said Duong Nghia Quoc, Vice Director of Dong Thap's Department of Agriculture and Rural Development.

Since the ray nau insect feeds on rice plants, the birds are a welcome site to local residents each year since the birds are so effective in reducing the insect's numbers.
 
Despite the presence of the swallows, however, ray naus have come in such high numbers that evening activities had to finish earlier than normal. People went to bed at 8 p.m. to avoid the insect pests entering their homes.
Thankfully (although not for the birds), it's expected that the insects will not make a reappearance on March 10, said Engineer Le Thi Thuy, Deputy Head of Dong Thap's Agency of Plant Conservation.