Sweden has pledged to work with Viet Nam across a range of health services including primary health care, care for cancer patients and the treatment of hospital waste.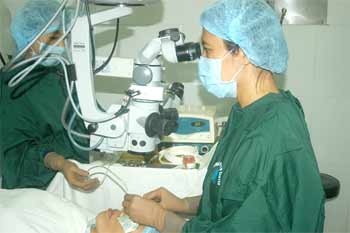 Health care service in Viet Nam hopes to be better thanks to cooperation between two countries(Photo:T.Nhu)
The cooperation plan was announced by Swedish Ambassador to Viet Nam Rolf Bergman at celebrations for the 40 th anniversary of Viet Nam-Sweden health cooperative ties in Ha Noi on March 11.
The Ambassador said the two countries have cooperated on primary health care since the 1980s, and it will remain a focus of future cooperation.
In recognising Viet Nam 's developments in healthcare, the diplomat said his country's health cooperation with Viet Nam has shifted from "development cooperation" to "cooperation on more equal terms and for mutual benefit".
Health Minister Nguyen Quoc Trieu hailed the effectiveness of Sweden 's assistance saying bilateral cooperation in healthcare has benefited millions of Vietnamese, especially poor people in remote and rural area.
He told the gathering that over four decades, the Swedish Government has provided Viet Nam with medical supplies and healthcare facilities alongside finances to help restore and build health clinics.
The Scandinavian country has also assisted Viet Nam in building health policies and institutions in line the nation's development.
In human resources development, Sweden has financed training courses for more than 40,000 Vietnamese health workers at home and 200 others abroad.
At the two-day health cooperation celebration, Vietnamese and Swedish officials discussed plans for future cooperation, including cancer care and hospital waste disposal.