President of the Council of States of Switzerland Ivo Bischofberger led a high- ranking delegation to visit Vietnam from March 28-31 at an invitation of Vietnam National Assembly (NA) Chairwoman Nguyen Thi Kim Ngan.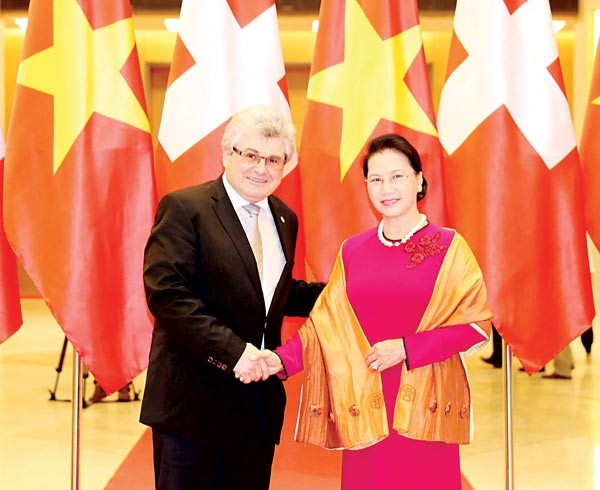 Swiss President of the Council of States and Vietnam National Assembly Chairwoman
At the welcome ceremony, the NA chairwoman had a talk with the Swiss president.
The Vietnamese leader affirmed that Switzerland is Vietnam's top economic partner in Europe. The two way trade turnover reached at over US$ 1 billion last year, an increase of 50 percent compared to 2015.
She desired that the partner continues calling on its enterprises to invest in the Southeast Asian country in the fields of finance & bank, insurance, high technology, creative industry, pharmacy, food processing industry, travel, hotel & restaurant in next time; and highlighted Vietnam always respects and pays attention to benefit of foreign businesses, including Swiss enterprises.
The Swiss president said that the visit aims to strengthen friendship relations between legislative agencies of the two nations, from which contributes boosting multi-faceted friendly and cooperation relations between Switzerland and Vietnam. His country's enterprises are interested in Vietnam's investment environment; therefore, he hoped that Vietnam will create legal favorable condition for Swiss companies.
On the same day, President Ivo Bischofberger and the high- ranking delegation laid a wreath at the mausoleum of President Ho Chi Minh, visited Uncle Ho's stilt house inside Presidential palace.
Yesterday evening, the NA Chairwoman chaired a banquet for the Swizz president and the delegation. Earlier, State President of Vietnam Tran Dai Quang welcomed President of the Council of States of Switzerland Ivo Bischofberger.
At the reception, he emphasized that Vietnam and Switzerland have maintained a long- term multi- faceted friendly traditional and cooperation relations.
Switzerland was one of the first European countries established diplomatic ties with Vietnam.
President Quang suggested the partner to continue supporting negotiation of the Free Trade Agreement between Vietnam and the European Free Trade Association (EFTA).