Over the first ten months of the year, Vietnam has sent 75,500 laborers to work abroad under fixed- term employment contracts, accounting for 85.32 percent of the year's plan, reported the Department for Overseas Workers Management yesterday.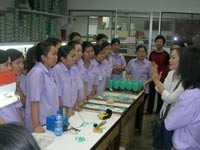 Vietnamese workers trained at Sovilaco Co. before going to work abroad (Photo: Nguoi Lao Dong)
Accordingly, 25,900 Vietnamese workers are reported to have worked in the Taiwanese territory, 11,770 in the Republic of Korea, 6,980 in Malaysia, 4,120 in Japan, 2,670 in Laos, 2,500 in United Arab Emirates, 2,450 in Arab Saudi, 2,430 in Macao, 1,380 in Czech, 50 in Australia and the others in the United States and Russia. 
 
Taiwan (China) is on top of the list of countries and territories that received the most Vietnamese guest workers.

This is a labor market that has so far attracted an increasing number of Vietnamese laborers because its working environment, weather, manners and customs, to some extent, are the same as Vietnam.