Hai Duong Province's People's Committee has decided to temporarily suspend production of the Taiwanese company Tung Kuang for continually releasing untreated wastewater to environment.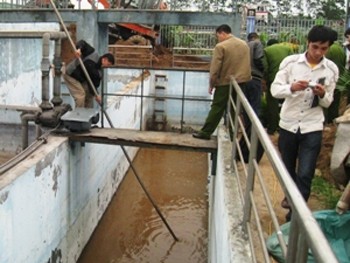 Environment police find underground piles which Tung Kuang Company uses to discharge untreated wastewater into Ghe River in Hai Duong Province in March (Photo: VNA)
At a meeting to discuss measures to handle the issue held April 21 between province's officials and environment investors with Tung Kuan representatives, the province People's Committee decided to suspend company's production related to polluting environment.
The province also revoked decisions on environmental impact evaluation and wastewater discharge licenses of the company.
The People's Committee said that it would only consider removing the suspension decision after the company thoroughly builds a wastewater treatment system and clean water environment.
The Environment Police Bureau under the Ministry of Public Security in the middle of April said that the Tung Kuang Company was discovered discharging dozens tons of untreated wastewater to Ghe River each day in Hai Duong Province since 2005.