A Taiwanese group has started building a US$3.3-billion steel mill in Dung Quat Economic Zone that will be among the largest in Southeast Asia.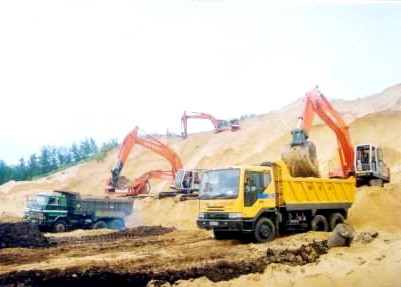 Preparing the ground for the giant steel mill in Dung Quat (Photo: A.Thu/VietnamNet)

More than US$1 billion will be invested in the first stage, Tycoons Worldwide Steel Vietnam Ltd. said at yesterday's ground-breaking ceremony for the 450-hectare behemoth.

Scheduled for commercial production in 2010, the mill will produce 5 million tons of steel ingots a year, employing 5,000 people directly and 20,000 indirectly in the process.

The design for the mill, praised as modern, environmentally friendly and energy-efficient, means it should not become obsolete for at least two decades.

A representative of Tycoons World Wide, the subsidiary's parent, said his group was working with Taiwan's E-United Group to raise capital for the project.

With such a massive outlay, this is easily the largest entirely foreign-owned project in Viet Nam's steel industry, and one of the two biggest in Dung Quat Economic Zone, the other being Viet Nam's first oil refinery.

So far the zone in Quang Ngai on the central coast has accommodated 125 projects capitalized in excess of $8 billion. The refinery alone has investment capital of $2.5 billion.