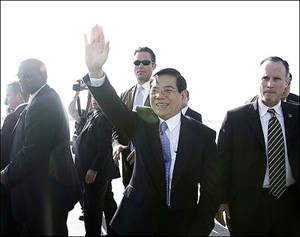 This photo published on the Washington Post shows President of Vietnam Nguyen Minh Triet waves as he arrives in Los Angeles Friday June 22, 2007. (AP Photo/Nick Ut)
Talks between Vietnamese President Nguyen Minh Triet and US President George W. Bush in Washington on June 22 had worldwide press coverage, especially in the US.
The Los Angeles Times quoted President Triet as saying his talks with President Bush were "frank and open" over many issues, including the counting number of US servicemen reported missing in action (MIA) and the lingering effects of Agent Orange/dioxin sprayed across Viet Nam during the Viet Nam war.
The US Associated Press (AP) agency ran an article right after the two leaders' talks, quoting President Bush as confirming, "We want to have good relations with Viet Nam." The news agency noted the Vietnamese President's wishing for continued efforts from both Viet Nam and the US in boosting their bilateral fast-growing relations, especially in trade and economic areas.
Disagreement over human rights should not stop a thriving trade relationship from getting stronger, President Triet said.
Meanwhile, Representative Roy Blunt, the number second House Republican, said President Triet told lawmakers that Viet Nam "had lots of human right" and that there should be no more talks about war as the present Viet Nam is a peaceful, friendly, and an actively and dynamically developing country.
After the talks, President Triet visited and had a party with the Vietnamese community in Orange County, California, which is home to a large population of Vietnamese who settled after the war.
The second page of the "Washington Post" posted a photo of President Triet and President Bush together with an article detailing the US leader's positive opinions of the growing and expanding trade relations between the two countries. The Trade and Investment Framework Agreement (TIFA) would lay a strong foundation for the official bilateral exchanges of free trade, Bush said.
President Triet's visit to the New York stock exchange right after arriving in the US and his vow to welcome US investors with open arms is "a sign of time", the "Le Figaro"newspaper in France remarked. Also the "Le Monde" paper posted a detailed report on the whole US trip by the Vietnamese President.