For six years now, farmers in Tich Thien Commune, Tra On District, Vinh Long Province, have won many prizes for their rambutans at annual fruit contests. Being proud of their fruit's reputation, local farmers are hoping that their produce will find well-deserved places in supermarkets, available for all interested consumers nationwide.
Tan Qui Island is some seven kilometers in length, covering an area of 600 square meters and is made up of four hamlets. Two are Tan Qui I and Tan Quy II of An Phu Tan Commune, Cau Ke District, Tra Vinh Province and the others Tich Phuoc and Tich Khanh of Tich Thien Commune, Tra On District, Vinh Long Province. This is a fertile area extended by silt deposits.

Tich Khach Hamlet has 75.8 and 0.3 hectares growing Java rambutans and yellow rambutans respectively.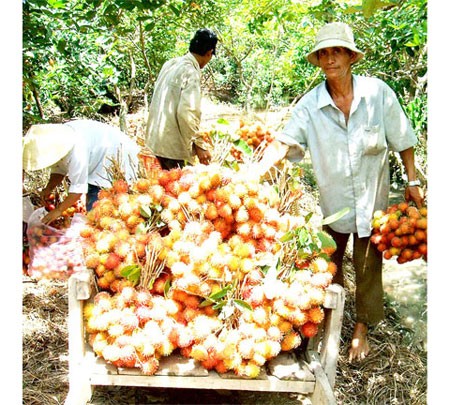 Farmers harvest rambutans in Tich Thien Hamlet (Photo: SGGP)
Local farmers said that Java rambutans have been grown there for some 60 years now. Compared to those of the same variety being grown in Long Khanh Town, Dong Nai Province, rambutans of Tich Khach are bigger. Their fleshy pulp is sweeter and juicier while the outer skin is shinier with more beautiful, pliable spines.

Tan Khanh Cooperative in Tich Thien Commune now has 25 members, among them, 21 have won prizes at fruit contests or fruit fairs and festivals so far.
The deputy chairman of the commune's Farmers' Association, Pham Van Toan, said, "Since 2003, local farmers have won 41 prizes in fruit contests for their rambutans organized in the Mekong Delta and HCM City. Of which, six were first, 30 second and three third, the others went to mangosteens and pineapples."

The first farmer to win an honorable prize for the Tich Phuoc Hamlet was Cao Van Vinh (widely known as Nam Vinh).

He recalled, "In early 2003, I visited a fruit fair and festival in Vinh Long. Witnessing a farmer from Long Ho District proudly winning the first prize for his rambutans, I told myself that I would win a similar prize for my produce someday."

"I then came to the Southern Orchard Institute to learn the secrets and techniques for growing high-quality rambutans and strictly followed their guidance. At the International Agricultural Fair in Can Tho City in late 2003, I won second prize for my Java rambutans."

"It was the first prize for the whole hamlet. I lost sleep over it because I was so happy," said Vinh. After the remarkable event, Vinh has won a further seven prizes for his yellow rambutans.

Thanks to the reputation gained in fruit contests, an increasing number of traders have recently ploughed their way to Nam Vinh's orchards to buy his rambutans, which are famous for having thin outer skin, thick fleshy pulp and sweet taste. No trace of pesticide residues are found in his produce.

Another prize-winning farmer, Nguyen Van Lap, or 'Ba Lo,' cheerfully talked about his achievements, "I won second prize for my yellow rambatans at the 2009 Southern Fruit Festival in HCM City on May 25. Inspired by the initial success, I again tried my luck at the Delicious and Safe Fruit Contest held in Cau Ke District, Tra Vinh Province in late June and won another second prize."

Ba Lo said, "To have such achievements, we have to follow very strict tending rules. We must clean up our orchards every day and aren't allowed to use wastewater from farms to water the trees. Fertilizers and pesticides must be used in right dosages."

Noticeably, farmers in Tan Qui Island can also grow rambutans when the fruit is out of season, though they closely guard the secret to determining the right growing-degree day for the flowers to bloom. A kilo of rambutans costs twice as much as that of the fruit in season.

At present, local farmers are waiting for good news from the National Office of Intellectual Property of Vietnam, which is considering their application for their rambutans' brand registration.

Pham Van Toan said, "Once rambutans here have got a registered brand, they will be able to seek ways to supply shelves of supermarkets nationwide. Hopefully, such stable markets will pave way for sustainable development of this kind of specialty of Tan Qui Island in the long run."