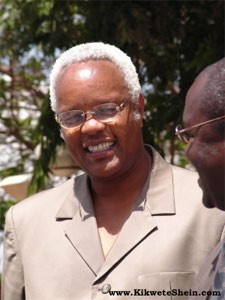 Tanzanian Prime Minister Edward Lowassa (Photo: www.KikweteShein.com)
At the invitation of Vietnamese Prime Minister Nguyen Tan Dung, Prime Minister of the United Republic of Tanzania Edward Lowassa will pay an official visit to Viet Nam from Sep 4 to 9.
Besides holding talks with PM Dung, Mr. Lowassa will meet with Communist Party Secretary-General Nong Duc Manh and National Assembly Chairman Nguyen Phu Trong.
He will also inspect some Vietnamese businesses in Ha Noi then travel to Ho Chi Minh City to study the Vietnamese ways of coffee and cashew nut production.
The purpose of the visit is to boost trade between the two nations, primarily coffee, cashew nuts, cotton and timber from Tanzania, and textiles, clothing, rubber, rice, electrical spare parts and computer components from Viet Nam.
The United Republic of Tanzania established diplomatic relations with Viet Nam on February 14, 1965.

Tanzania supported Viet Nam in the anti-American resistance war. Tanzanian leaders consider Viet Nam as a good example of a struggle against invaders.

In 2005, export revenues from Tanzania to Viet Nam reached US$2.256 million, while the figure in the opposite direction was US$16.3 million.

Back in 1999, a dispute over a contract to buy 6,000 tons of Vietnamese rice between Tanzania's Mohammed Enterprises and Viet Nam's Thanh Hoa Co. Ltd eventually resulted in a Tanzanian court ordering the seizure of the ship Can Gio. The Can Gio was held by Tanzania from July 27, 2004 until August 11, 2005.